Barbara Dex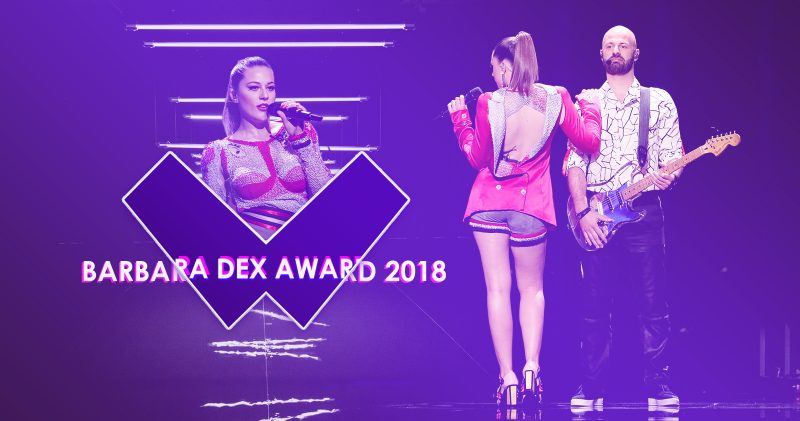 Terugblik: 'Barbara Dex Award 2018'
We gaan bijna naar een nieuw jaar maar voor we onze feesthoedjes en toeters bovenhalen, kijken we nog eens samen met jullie terug naar een paar hoogtepunten uit dit songfestivalseizoen. Doorheen deze week zetten we een paar leuke, grappige en soms ook minder fijne momenten nog een keer op een rijtje. 
Deze site reikte ook dit jaar weer de award uit voor de slechtst of meest opvallende geklede act op het Eurovisiesongfestival. Sommigen konden bekoren, bij andere gingen de wenkbrauwen fronsen. We overlopen de kanshebbers en natuurlijk zetten we de winnaar nog eens in the picture.
Winnaar 2017 aan het woord 
De kanshebbers
Israël
IJsland
België
Macedonië (VJR)
Wit-Rusland
San Marino
Nederland
Australië
Montenegro
Slovenië
Dé grote winnaar van 2018…
Macedonië werd door jullie uitgeroepen tot de winnaar van de Barbara Dex Award! Australië en België vervolledigden de top drie.
.@EyeCueOfficial from #Macedonia wins the Barbara Dex Award 2018 for worst dressed artist of the #Eurovision this year, @songfestival_be reported.https://t.co/Oq02lX4I64

— Macedonia in English (@Macedonia_en) May 21, 2018