Algemeen
13 reasons why everyone should go and watch 'Melodifestivalen'
Eurovision fans can't wait! This Saturday Sweden starts with Melodifestivalen, their annual and big national final show to find a contestant for the Eurovision Song Contest. In Sweden, the show remains more popular than the European contest itself. Really! Wouldn't it be cool to get more and more fans for this show? More international viewers? With these 13 reasons you can convince doubters or … even non-believers. Do you have some extra reasons? Let us know!
1. There are no limits! 
Perhaps the most important reason to watch this great show: noting it too crazy or weird. Everyone is invited! (well, except for animals, you know). During the show you get to see all sorts of artists and songs. Tired of that boring ballad? Well, just wait for the rap and country songs to pop up! More into a Spanish anthem or an unique Swedish schlager? And that's just for the songs. The costums, the video walls, the dance routines or attributes … An old man dressed up as an Indian? Or the newest pop sensation? Here they come together. If you think countries think big at Eurovision, just watch how it's done in Sweden. You won't be bored at all.
2. Melfest brings you some 'old school entertainment'
The Voice, X Factor or another Got Talent-season … tired of all these annoying singing shows where the judges do all the talking? At Melodifestivalen you get a throwback to the nineties. It's up to you to decide if that's a good or a bad thing. There is time for some jokes, interval acts, lovely sketches, and of course a lot of music. Everything at the right time, smoothly and without comments by judges. Broadcaster SVT takes time to prepare an entertaining show, every year. This trailer has it all:
BIG NEWS FROM SWEDEN 🇸🇪
This is how the #melfest 2017 stage will be 😍😱 pic.twitter.com/ESiT2CLmFs

— Common Eurofan Girl (@CommonESCGirl) January 26, 2017
3. The hosts are too hilarious!

Another fact that makes this show unique: the hosts! Often former contestants and comedy actors (Hi, Petra Mede!) are on the job. Nowadays, tv-hosts just have so say some words like 'hello' 'welcome' and 'vote for your favorite act'. To host Melfest you have to do more then just smile nicely into the camera. You have to be funny, a great dancer, a gifted actor and last but not least: looking hot does the trick as well!
4. The 'Where do I know these singers from?'-moments
Mello, as the show is called in Sweden, is as we just mentioned one of the most watched TV shows in Sweden. Then it has to be good, no? So think a lot of artists as well. That's why almost every year a former Eurovision winner and some relatively 'famous' singers return to the show, just because they like it so much. Over the years, we've seen contestants taken part a couple of times, even without winning. In 2017 we'll see the return of Charlotte Take Me to Your Heaven Perrelli and Euphoria-singer Loreen! But did you know also knew Dr. Alban (It's My Life), Agnes (Release Me), Emelia (Big Big World), Katrina Leskanich (Katrina & The Waves), Army Of Lovers (Crucified), Alcazar (Crying at the Discoteque), producer RedOne (man behind hits of Lady Gaga, One Direction …) and ESC winner Helena Paparizou (hit: My Number One) all took part? Maybe next year Zara Larsson will do the same! Don't believe that? Even ABBA partcipated twice and they won with Waterloo.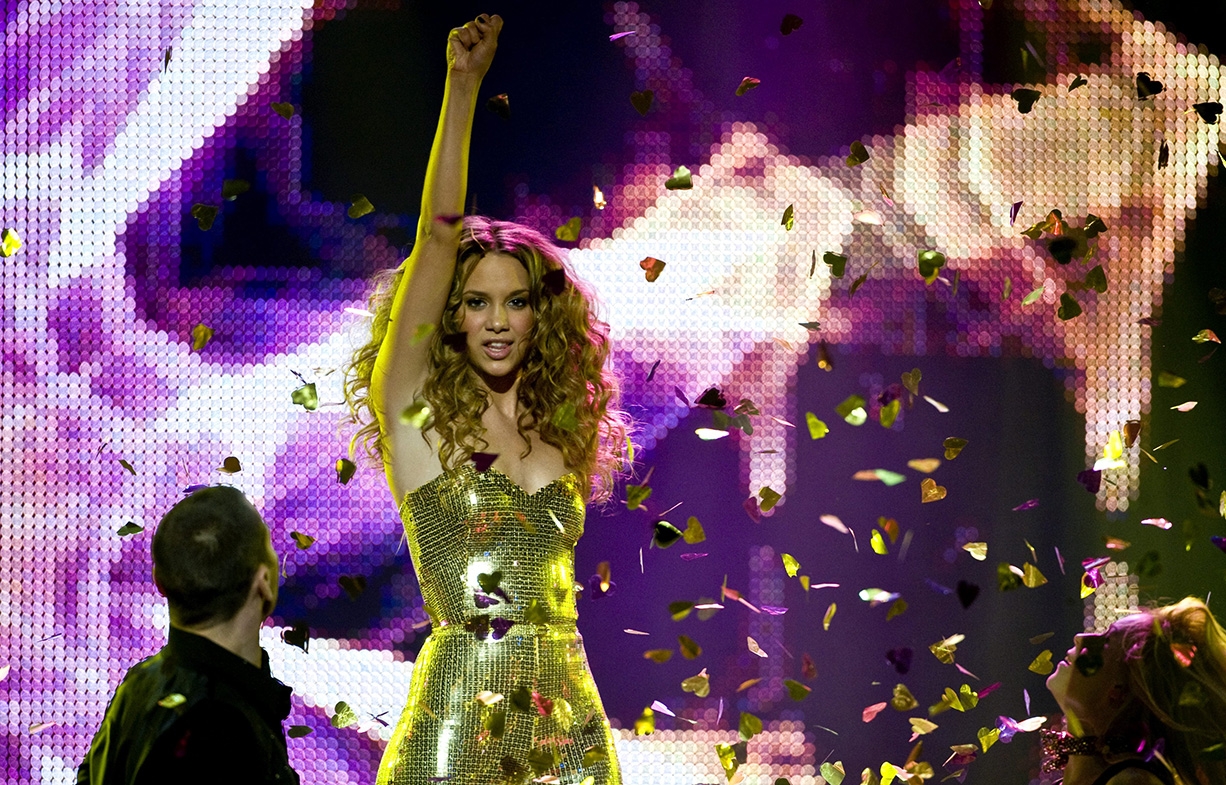 5. The handsome artists in the show!
Not all the artists are familiar faces, but that's okay! Every year Melfest introduces new talents who will come back to try their luck again or jump into the Swedish charts. Most of them are looking extremely cute and … hot. Thanks to the show we now have 'models to be' like Måns Zelmerlöw, Eric Saade, Samir & Viktor, Molly Sandén, Robin Bengtsonn, queens Lena Philipsson and Carola, and Wiktoria. Melfest, a joy to hear and to watch!
https://www.instagram.com/p/BPXD_wQAwOi/?taken-by=m0llys
6. ALCAZAR, JUST ALCAZAR
At the start of the 00s we were introduced to the Swedish pop group Alcazar. Their version of the song Crying at the Discoteque became an international smash hit and they performed all over the world. The international success didn't last that long, but songs are still often played on the radio and at some parties. We still love those amazing beats and choruses. Good news: Alcazar is still performing and they are a household name in Melodifestivalen. They tried their luck already 5 times in the show, with band members also taking part solo. So, in Melfest, the party never stops! At their last attempt in 2014, Alcazar jumped right out of a big disco ball. Another reason to watch this show: reliving the golden years of Alcazar!
7. You get to hear some incredible schlager anthems! 
In some countries it's still a bit 'not done' to listen to local schlager artists, and their belters. Not in Sweden. Loving schlager? What are you waiting for, go and watch Melodifestivalen! The Swedish are a pioneer in producing schlager music. This Swedish Eurovision show also produced a lot of new hits in the genre. That's why you can easilywatch Melfest together with your parents and even your grandmother. Without being ashamed! Singer Sanna Nielsen, participated 7 times in the show, brought us a lot of joy with her schlager anthems. Great job!
Most people sleep at 3am but I listen to Swedish schlager 😂😂😂 pic.twitter.com/xqe0uXmT1d

— linda🦁 (@Linda_meow) December 31, 2016
HAPPY 50TH BIRTHDAY CAROLA! You will always be the embodiement of perfect swedish schlager <3 <3 pic.twitter.com/NQc7Z79CSJ

— Schlagerpeppen (@schlagerpeppen) September 8, 2016
8. Melodifestivalen brings you some great pop music, songs you otherwise wouldn't have heard of 
Friends who say this show has no credibility – that are no real friends, of course – are wrong in so many ways. The broadcast brings six weeks of relaxing TV, but also manages to get some great pop hits into the show. Great as in: the songs get to win the whole Eurovision Song Contest or they get to be a hit on YouTube, Spotify and in the Scandinavian charts. Sweden is scoring very good at Eurovision, oh, and that's right, where was DJ Avicii born? Without the show there wouldn't have been hits like Euphoria, Heroes and … Waterloo! These songs got launched at Melodifestivalen. Here some  examples of great pop tunes in the show:
9. This is a mini Eurovision show
The Swedish show is the most popular Eurovision national competition. With six shows and a glamorous stage, 'mini' isn't the right word to describe Melodifestivalen. But there still is only one Eurovision Song Contest. But if you are into some more Eurovision madness, this tv-show brings it all back to you. For example: there is a big final night, winners, losers, spokespersons who give us the points, divas, kitsch, hits, mistakes … all sort of things we also get to see at ESC. Bring us some more!
10. The tension is high! 
As points are awarded in the Mello final, the show is nail biting at some points! In the first rounds some artists directly qualify for the final, others have to sing in a second chance round, and some are eliminated and sent home. Every year begs the same questions: will the favorites quality, and who flops? In 2017 everyone wonders what Loreen will be do at Melfest. At this second chance round, 'duels' are created and the show turns into a sort of a catfight. In the last show, the final, countries in Europe vote for their favourite acts. After that, we get to know the televoting results. Remember the new voting system in Eurovision 2016? Well, in Melfest it was already introduced years ago. The tension is high!
Amazing voting system! Thanks Melodifestivalen. #eurovision

— Will 🇪🇺 (@squawkbox) May 14, 2016
11. Humour, a lot of humour 
The Swedish are aware of the fact that their favorite TV show often is compared to a big freak show, and that some songs are just downright crap. Broadcaster SVT deals very well with these critics. They put a lot of humour in the shows. The introclips are full of sarcasm, the interval acts of the hosts are hilarious. And what do you think of the witty dialouges between the hosts? The show even has got their own stand-up act: Lynda Woodruff. Even Christer Björkman, the man in charge, is in for a (Conchita) joke!
12. The Swedish language
As an international viewer you can skip all the parts about voting for the acts: only the people in Sweden get the chance to vote. Or you have to download an app, but how will you understand all of this? The show is fully presented in Swedish, no English. So you won't understand a thing of it. Or maybe some of your friends are die hard (Eurovision) fans and have studied Swedish (We all know someone like that) But that Swedish though … It's just hilarious to hear and to try for yourself … Here a small tip: if the hosts shout 'Direkt till final', they mean that the act is qualified for the final night!
Waiting for Gina Dirawi to come out of #EUSummit and say "Vi har ett resultat". #EUCO #melodifestivalen

— Alasdair Rendall (@AllyBallyEuro) February 19, 2016
13. Glitter, glamour and guilty pleasures everywhere! 
Nowadays it's cool to have some #Guiltypleasures. Proof: all those posts on Instagram and Twitter. Well, Melfest is a guilty pleasure in so many ways. This has to be one of the most important reasons to let the world know something like Melodifestivalen exists: it's all okay! You don't have to be ashamed if another dramatically drag queen shows up on stage (Hi, After Dark!) or when there are flames everywhere and all you can do is being over enthusiastic. Just go for it! Rockers, divas, teens, crooners … they come together and party! This Swedish show is a perfect alternative in a world where TV broadcasts are focused on Donald Trump, dating and debating about all the hatred in the world.
Want an escape from the daily rush and pressure? Well, just go with the flow and stream to SVT. Let 2017 be the year where you can watch Melodifestivalen together with your lover, friends, family, or room mates. Without doing it sneaky.