Top 250 2020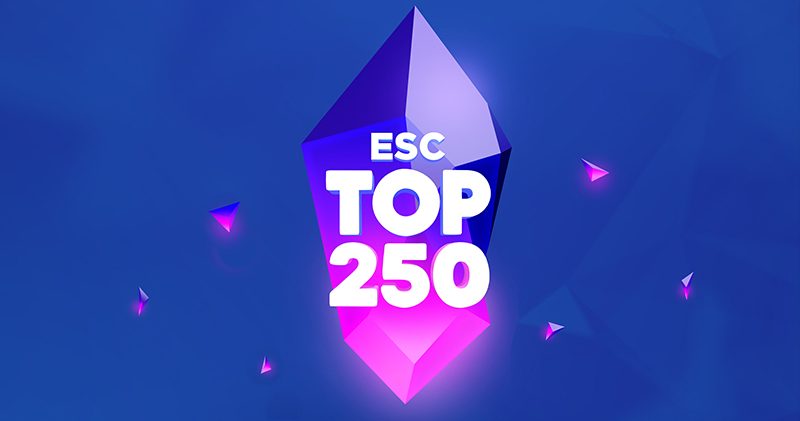 Alles wat je moet weten over de nieuwste ESC Top 250
Het is alweer bijna die tijd van het jaar! De ESC Top 250 komt steeds dichterbij en daar is niemand rouwig om. Het was, op zijn minst gezegd, een treurig jaar. Net toen we dachten dat het wel zou overwaaien, gaat het nu ook alweer de verkeerde kant op. De feestdagen zullen anders zijn dan anders. Net als 31 december. Het enige dat we jullie alvast niet zullen ontnemen is om dan te genieten van de 250 populairste nummers uit 65 jaar Songfestival, door jullie gekozen.
We zijn allemaal wel toe aan leuk nieuws, vandaar dat we jullie ook vol trots het nieuwe logo voor 2020 willen voorstellen. Hiermee geven we dan ook het officiële startschot voor een nieuwe ESC Top 250. Voor het vierde jaar op rij nemen wij van Songfestival.be de organisatie hiervan voor onze rekening. Achter de schermen zijn we vol in de weer om ook dit jaar weer massaal jullie stemmen te mogen ontvangen en verwerken. In de komende weken zal er meer informatie naar buiten komen over de editie van dit jaar. Wat we al wel kunnen verklappen is dat we jullie meer dan genoeg tijd zullen geven om tot die ultieme top tien te komen. De ESC Top 250 zal zoals gewoonlijk uitgezonden worden op ESCRadio op 31 december.
It's almost that time again!! The ESC Top 250 2020 is happening on December 31st. We're proud to present our new logo. More information about the voting is coming in the next weeks.

Geplaatst door ESC Top 250 op Donderdag 1 oktober 2020
Nummers uit 2020
We kregen op sociale media ontzettend veel vragen over het hoe en wat met de nummers die normaal hadden deelgenomen in 2020. De deelnemende artiesten en omroepen schonden geen regels, maar werden omwille van overmacht alsnog collectief uitgesloten van de competitie. Omdat het hier gaat om externe factoren buiten de wil en mogelijkheden van individuen en omroepen om, en om de kandidaten en songs van 2020 te eren, hebben we dus besloten om de 41 liedjes van dit jaar te laten deelnemen aan de ESC Top 250 stemming, in november en december dit jaar.
‼️NEWS‼️#Eurovision #Esc250 pic.twitter.com/LSeG8tj2c1

— Songfestival.be (@Songfestival_be) May 17, 2020
Trending in Europese landen
Vorig jaar was #ESC250 een van de meest gebruikte hashtags op sociale media tijdens de uitzending. In verschillende Europese landen klom de hashtag zelfs tot een tweede plaats. Dit jaar willen we dat natuurlijk evenaren dus we hopen jullie allemaal online te zien om mee te praten over de nummers uit de ESC Top 250 en elkaar zo te verbinden. We mogen geen groot feest houden, maar laat het je niet weerhouden om alsnog samen met alle fans van over de hele wereld voor een dag al het slechte nieuws te vergeten en het Songfestival te vieren.
Bekijk hieronder nog eens de resultaten van 2019
| Jaar | Artiest | # | '18 | Ptn | 12p | 10p | 8p | 7p | 6p | 5p | 4p | 3p | 2p | 1p |
| --- | --- | --- | --- | --- | --- | --- | --- | --- | --- | --- | --- | --- | --- | --- |
| | | 1 | 1 | 8599 | 271 | 170 | 158 | 126 | 88 | 81 | 61 | 52 | 57 | 54 |
| | | 2 | - | 7053 | 232 | 143 | 98 | 92 | 83 | 67 | 63 | 59 | 48 | 53 |
| | | 3 | 2 | 6030 | 130 | 152 | 109 | 91 | 86 | 71 | 53 | 68 | 56 | 42 |
| | | 4 | - | 4175 | 80 | 92 | 73 | 62 | 74 | 60 | 51 | 63 | 47 | 46 |
| | | 5 | - | 3429 | 67 | 77 | 59 | 51 | 56 | 56 | 54 | 35 | 28 | 33 |
| | | 6 | 7 | 3241 | 67 | 62 | 51 | 59 | 50 | 52 | 54 | 41 | 34 | 29 |
| | | 7 | 3 | 3115 | 103 | 53 | 47 | 48 | 31 | 35 | 29 | 28 | 23 | 30 |
| | | 8 | 4 | 2763 | 66 | 55 | 50 | 36 | 43 | 43 | 28 | 30 | 32 | 30 |
| | | 9 | 6 | 2748 | 66 | 53 | 51 | 42 | 36 | 37 | 30 | 41 | 24 | 32 |
| | | 10 | 10 | 2711 | 68 | 52 | 60 | 43 | 29 | 32 | 30 | 23 | 24 | 23 |
| | | 11 | 5 | 2651 | 51 | 45 | 46 | 53 | 42 | 43 | 34 | 46 | 38 | 33 |
| | | 12 | 8 | 2504 | 50 | 45 | 49 | 50 | 33 | 37 | 40 | 35 | 23 | 18 |
| | | 13 | - | 2398 | 58 | 59 | 36 | 32 | 27 | 32 | 33 | 20 | 29 | 28 |
| | | 14 | 9 | 2370 | 68 | 37 | 36 | 38 | 30 | 36 | 32 | 28 | 23 | 12 |
| | | 15 | 14 | 2237 | 33 | 56 | 46 | 34 | 34 | 38 | 32 | 26 | 21 | 33 |
| | | 16 | 16 | 2217 | 42 | 33 | 43 | 40 | 45 | 41 | 31 | 25 | 31 | 23 |
| | | 17 | 17 | 2209 | 26 | 38 | 48 | 44 | 40 | 43 | 34 | 44 | 34 | 34 |
| | | 18 | 12 | 2204 | 41 | 44 | 36 | 42 | 41 | 28 | 34 | 31 | 26 | 23 |
| | | 19 | 32 | 2203 | 13 | 60 | 58 | 44 | 44 | 33 | 21 | 28 | 25 | 28 |
| | | 20 | 11 | 2054 | 36 | 45 | 42 | 34 | 25 | 30 | 36 | 23 | 24 | 37 |
| | | 21 | 13 | 2021 | 46 | 42 | 21 | 30 | 36 | 38 | 27 | 24 | 28 | 29 |
| | | 22 | 19 | 1995 | 35 | 41 | 33 | 36 | 36 | 31 | 31 | 30 | 21 | 22 |
| | | 23 | 20 | 1965 | 29 | 46 | 40 | 34 | 38 | 27 | 27 | 19 | 22 | 27 |
| | | 24 | 15 | 1930 | 26 | 25 | 31 | 43 | 33 | 42 | 46 | 46 | 31 | 27 |
| | | 25 | 25 | 1848 | 30 | 30 | 47 | 35 | 26 | 27 | 29 | 30 | 21 | 28 |
| | | 26 | - | 1751 | 33 | 49 | 27 | 34 | 18 | 25 | 16 | 23 | 15 | 15 |
| | | 27 | 21 | 1743 | 38 | 31 | 17 | 25 | 37 | 31 | 26 | 33 | 30 | 26 |
| | | 28 | 18 | 1743 | 22 | 28 | 30 | 44 | 27 | 35 | 39 | 19 | 37 | 27 |
| | | 29 | - | 1738 | 115 | 4 | 12 | 10 | 8 | 10 | 3 | 8 | 5 | 8 |
| | | 30 | 27 | 1691 | 15 | 35 | 34 | 31 | 33 | 30 | 40 | 28 | 28 | 24 |
| | | 31 | 22 | 1619 | 20 | 22 | 26 | 29 | 34 | 34 | 43 | 42 | 29 | 18 |
| | | 32 | 30 | 1547 | 28 | 34 | 29 | 27 | 19 | 19 | 24 | 26 | 24 | 19 |
| | | 33 | 34 | 1495 | 18 | 31 | 35 | 23 | 28 | 25 | 31 | 19 | 18 | 18 |
| | | 34 | - | 1445 | 26 | 21 | 28 | 24 | 29 | 27 | 24 | 19 | 23 | 23 |
| | | 35 | 35 | 1435 | 16 | 26 | 30 | 22 | 31 | 37 | 21 | 17 | 26 | 31 |
| | | 36 | 26 | 1371 | 19 | 26 | 18 | 27 | 27 | 25 | 30 | 25 | 22 | 24 |
| | | 37 | 33 | 1356 | 21 | 24 | 25 | 29 | 20 | 26 | 22 | 22 | 19 | 19 |
| | | 38 | 39 | 1278 | 13 | 29 | 28 | 19 | 34 | 18 | 20 | 13 | 23 | 16 |
| | | 39 | 36 | 1270 | 17 | 33 | 26 | 15 | 24 | 20 | 14 | 24 | 18 | 15 |
| | | 40 | - | 1178 | 22 | 17 | 19 | 18 | 22 | 22 | 25 | 22 | 22 | 14 |
| | | 41 | 24 | 1174 | 9 | 28 | 15 | 25 | 25 | 24 | 27 | 19 | 18 | 20 |
| | | 42 | 95 | 1171 | 28 | 23 | 28 | 15 | 16 | 12 | 20 | 8 | 6 | 4 |
| | | 43 | 28 | 1155 | 18 | 19 | 23 | 16 | 23 | 14 | 22 | 31 | 23 | 18 |
| | | 44 | 29 | 1149 | 19 | 24 | 20 | 20 | 20 | 20 | 13 | 20 | 17 | 15 |
| | | 45 | 42 | 1144 | 17 | 15 | 27 | 18 | 19 | 17 | 29 | 23 | 22 | 20 |
| | | 46 | 23 | 1131 | 23 | 17 | 21 | 18 | 20 | 11 | 20 | 24 | 23 | 18 |
| | | 47 | - | 1090 | 14 | 23 | 18 | 24 | 22 | 22 | 16 | 13 | 11 | 13 |
| | | 48 | 31 | 1066 | 62 | 4 | 2 | 5 | 14 | 12 | 10 | 8 | 9 | 5 |
| | | 49 | 48 | 1055 | 16 | 22 | 18 | 19 | 15 | 22 | 13 | 18 | 23 | 14 |
| | | 50 | 45 | 1052 | 10 | 14 | 26 | 17 | 22 | 26 | 21 | 16 | 27 | 17 |
| | | 51 | 41 | 1049 | 10 | 15 | 19 | 19 | 20 | 30 | 21 | 20 | 30 | 20 |
| | | 52 | - | 1040 | 25 | 21 | 17 | 11 | 19 | 11 | 11 | 16 | 19 | 18 |
| | | 53 | 37 | 1037 | 17 | 27 | 28 | 11 | 14 | 11 | 10 | 15 | 11 | 16 |
| | | 54 | 55 | 990 | 14 | 18 | 18 | 14 | 20 | 19 | 19 | 19 | 19 | 14 |
| | | 55 | - | 985 | 15 | 24 | 11 | 15 | 21 | 14 | 14 | 17 | 23 | 23 |
| | | 56 | 40 | 984 | 14 | 17 | 21 | 15 | 26 | 21 | 10 | 14 | 10 | 10 |
| | | 57 | 51 | 981 | 17 | 16 | 23 | 14 | 18 | 13 | 18 | 14 | 18 | 12 |
| | | 58 | 57 | 975 | 16 | 13 | 22 | 15 | 20 | 16 | 19 | 19 | 14 | 11 |
| | | 59 | 43 | 973 | 20 | 16 | 16 | 19 | 12 | 12 | 15 | 18 | 23 | 20 |
| | | 60 | 38 | 951 | 7 | 11 | 21 | 22 | 17 | 22 | 16 | 27 | 32 | 14 |
| | | 61 | 86 | 946 | 50 | 13 | 7 | 4 | 7 | 6 | 4 | 9 | 6 | 5 |
| | | 62 | 68 | 909 | 20 | 17 | 14 | 12 | 17 | 12 | 14 | 17 | 10 | 14 |
| | | 63 | 59 | 901 | 15 | 17 | 14 | 14 | 18 | 15 | 14 | 18 | 16 | 16 |
| | | 64 | 65 | 882 | 8 | 17 | 14 | 17 | 20 | 17 | 19 | 14 | 21 | 20 |
| | | 65 | - | 881 | 15 | 15 | 19 | 12 | 17 | 11 | 15 | 20 | 12 | 14 |
| | | 66 | 53 | 879 | 17 | 14 | 12 | 17 | 19 | 14 | 13 | 18 | 8 | 14 |
| | | 67 | 96 | 867 | 13 | 11 | 20 | 19 | 12 | 16 | 12 | 19 | 17 | 17 |
| | | 68 | 78 | 863 | 25 | 19 | 11 | 11 | 9 | 15 | 8 | 6 | 9 | 11 |
| | | 69 | 62 | 822 | 10 | 20 | 16 | 19 | 11 | 9 | 13 | 13 | 13 | 13 |
| | | 70 | 77 | 814 | 9 | 9 | 10 | 16 | 26 | 22 | 17 | 14 | 17 | 14 |
| | | 71 | 47 | 812 | 16 | 12 | 13 | 13 | 15 | 20 | 14 | 9 | 10 | 12 |
| | | 72 | 80 | 812 | 12 | 13 | 12 | 20 | 16 | 22 | 9 | 11 | 9 | 9 |
| | | 73 | 105 | 811 | 16 | 17 | 11 | 20 | 5 | 14 | 14 | 14 | 7 | 9 |
| | | 74 | 46 | 806 | 10 | 19 | 13 | 13 | 10 | 16 | 18 | 11 | 23 | 10 |
| | | 75 | 44 | 803 | 8 | 12 | 16 | 15 | 21 | 17 | 15 | 12 | 17 | 13 |
| | | 76 | 52 | 792 | 15 | 8 | 13 | 16 | 10 | 16 | 17 | 19 | 17 | 17 |
| | | 77 | 49 | 786 | 11 | 12 | 9 | 18 | 16 | 13 | 14 | 19 | 18 | 26 |
| | | 78 | 76 | 784 | 11 | 12 | 14 | 14 | 20 | 10 | 14 | 18 | 14 | 14 |
| | | 79 | 56 | 774 | 10 | 8 | 13 | 18 | 15 | 15 | 16 | 19 | 19 | 20 |
| | | 80 | 111 | 767 | 16 | 16 | 11 | 8 | 8 | 20 | 10 | 14 | 15 | 11 |
| | | 81 | 91 | 762 | 5 | 8 | 15 | 18 | 18 | 18 | 18 | 18 | 16 | 20 |
| | | 82 | 73 | 749 | 17 | 13 | 11 | 13 | 13 | 6 | 11 | 19 | 7 | 13 |
| | | 83 | 97 | 749 | 8 | 16 | 12 | 13 | 12 | 17 | 9 | 17 | 18 | 26 |
| | | 84 | 54 | 734 | 10 | 9 | 14 | 14 | 13 | 14 | 16 | 24 | 7 | 16 |
| | | 85 | 88 | 734 | 7 | 18 | 17 | 11 | 7 | 13 | 14 | 15 | 17 | 15 |
| | | 86 | 82 | 732 | 14 | 12 | 8 | 13 | 11 | 19 | 14 | 11 | 13 | 13 |
| | | 87 | 50 | 710 | 15 | 10 | 16 | 9 | 11 | 13 | 11 | 11 | 10 | 11 |
| | | 88 | 63 | 691 | 9 | 7 | 19 | 14 | 6 | 21 | 13 | 12 | 12 | 10 |
| | | 89 | - | 691 | 3 | 10 | 16 | 13 | 15 | 14 | 24 | 18 | 10 | 6 |
| | | 90 | 83 | 689 | 9 | 9 | 8 | 19 | 15 | 12 | 17 | 11 | 16 | 11 |
| | | 91 | 74 | 676 | 8 | 12 | 9 | 17 | 17 | 15 | 8 | 10 | 10 | 10 |
| | | 92 | 58 | 659 | 16 | 9 | 6 | 9 | 10 | 14 | 19 | 7 | 15 | 9 |
| | | 93 | 71 | 655 | 7 | 6 | 14 | 15 | 11 | 16 | 13 | 12 | 21 | 18 |
| | | 94 | - | 649 | 10 | 5 | 11 | 16 | 13 | 14 | 13 | 10 | 20 | 9 |
| | | 95 | 69 | 646 | 6 | 10 | 14 | 11 | 17 | 12 | 15 | 12 | 10 | 7 |
| | | 96 | 75 | 645 | 7 | 9 | 14 | 10 | 13 | 14 | 18 | 14 | 10 | 7 |
| | | 97 | 98 | 637 | 5 | 15 | 11 | 8 | 11 | 19 | 12 | 11 | 15 | 11 |
| | | 98 | 220 | 629 | 9 | 9 | 14 | 13 | 8 | 12 | 15 | 13 | 5 | 11 |
| | | 99 | 93 | 628 | 8 | 13 | 12 | 9 | 13 | 11 | 13 | 12 | 6 | 10 |
| | | 100 | - | 627 | 12 | 10 | 19 | 6 | 7 | 10 | 9 | 13 | 7 | 8 |
| | | 101 | 90 | 626 | 6 | 14 | 11 | 8 | 16 | 14 | 11 | 12 | 9 | 6 |
| | | 102 | 72 | 613 | 9 | 12 | 7 | 11 | 12 | 11 | 14 | 13 | 9 | 12 |
| | | 103 | 85 | 612 | 3 | 7 | 18 | 11 | 8 | 16 | 17 | 12 | 18 | 17 |
| | | 104 | 92 | 610 | 11 | 13 | 7 | 13 | 9 | 7 | 9 | 13 | 14 | 9 |
| | | 105 | 81 | 602 | 9 | 6 | 13 | 11 | 9 | 12 | 18 | 12 | 11 | 9 |
| | | 106 | 265 | 591 | 10 | 11 | 14 | 9 | 13 | 5 | 8 | 12 | 5 | 5 |
| | | 107 | 243 | 584 | 7 | 8 | 8 | 14 | 8 | 12 | 18 | 10 | 17 | 14 |
| | | 108 | 66 | 578 | 5 | 13 | 12 | 13 | 9 | 11 | 10 | 8 | 9 | 10 |
| | | 109 | 64 | 576 | 5 | 13 | 17 | 11 | 6 | 10 | 11 | 6 | 4 | 17 |
| | | 110 | 89 | 572 | 4 | 7 | 14 | 10 | 14 | 10 | 16 | 12 | 12 | 14 |
| | | 111 | - | 568 | 11 | 8 | 8 | 6 | 10 | 11 | 11 | 14 | 15 | 19 |
| | | 112 | 101 | 564 | 11 | 7 | 10 | 8 | 9 | 11 | 15 | 11 | 9 | 6 |
| | | 113 | 99 | 539 | 17 | 9 | 11 | 3 | 10 | 1 | 6 | 7 | 10 | 6 |
| | | 114 | 84 | 523 | 8 | 7 | 15 | 7 | 8 | 10 | 11 | 7 | 8 | 9 |
| | | 115 | 61 | 522 | 9 | 12 | 8 | 9 | 8 | 6 | 10 | 9 | 8 | 6 |
| | | 116 | 67 | 517 | 5 | 7 | 6 | 13 | 8 | 10 | 20 | 10 | 15 | 10 |
| | | 117 | 104 | 516 | 12 | 6 | 9 | 5 | 9 | 11 | 9 | 12 | 3 | 18 |
| | | 118 | 258 | 516 | 6 | 12 | 11 | 13 | 10 | 10 | 3 | 2 | 4 | 9 |
| | | 119 | 110 | 514 | 12 | 9 | 5 | 11 | 5 | 6 | 15 | 6 | 9 | 7 |
| | | 120 | 102 | 508 | 7 | 7 | 8 | 11 | 13 | 7 | 11 | 8 | 10 | 12 |
| | | 121 | 87 | 506 | 10 | 6 | 7 | 7 | 11 | 11 | 13 | 10 | 4 | 10 |
| | | 122 | 137 | 501 | 7 | 7 | 8 | 10 | 9 | 6 | 14 | 9 | 19 | 8 |
| | | 123 | 192 | 500 | 9 | 11 | 9 | 9 | 9 | 4 | 8 | 10 | 4 | 3 |
| | | 124 | 79 | 496 | 7 | 5 | 9 | 11 | 8 | 8 | 12 | 15 | 11 | 10 |
| | | 125 | 114 | 488 | 6 | 5 | 6 | 12 | 15 | 7 | 10 | 11 | 14 | 8 |
| | | 126 | 574 | 484 | 9 | 8 | 11 | 11 | 9 | 4 | 6 | 7 | 4 | 4 |
| | | 127 | 125 | 483 | 9 | 14 | 6 | 8 | 7 | 2 | 12 | 5 | 6 | 4 |
| | | 128 | 103 | 481 | 5 | 10 | 10 | 8 | 9 | 7 | 8 | 13 | 7 | 11 |
| | | 129 | 100 | 479 | 9 | 8 | 11 | 7 | 8 | 8 | 6 | 10 | 5 | 2 |
| | | 130 | 139 | 479 | 4 | 10 | 8 | 6 | 9 | 14 | 9 | 10 | 10 | 15 |
| | | 131 | 123 | 473 | 8 | 9 | 3 | 4 | 10 | 11 | 13 | 13 | 11 | 7 |
| | | 132 | 234 | 471 | 12 | 10 | 7 | 3 | 7 | 11 | 0 | 9 | 11 | 4 |
| | | 133 | 115 | 463 | 14 | 6 | 6 | 10 | 6 | 5 | 4 | 8 | 6 | 4 |
| | | 134 | 146 | 461 | 4 | 9 | 7 | 7 | 6 | 11 | 7 | 21 | 11 | 14 |
| | | 135 | 126 | 452 | 8 | 9 | 6 | 6 | 8 | 6 | 7 | 10 | 15 | 10 |
| | | 136 | 128 | 448 | 4 | 8 | 6 | 13 | 11 | 10 | 5 | 5 | 10 | 10 |
| | | 137 | 112 | 445 | 4 | 12 | 11 | 4 | 10 | 3 | 10 | 8 | 7 | 8 |
| | | 138 | 170 | 444 | 7 | 10 | 6 | 6 | 7 | 9 | 13 | 4 | 6 | 7 |
| | | 139 | 237 | 442 | 3 | 3 | 13 | 5 | 16 | 10 | 10 | 7 | 10 | 10 |
| | | 140 | 160 | 436 | 11 | 12 | 4 | 6 | 4 | 4 | 8 | 1 | 9 | 13 |
| | | 141 | 70 | 435 | 3 | 7 | 6 | 9 | 14 | 7 | 7 | 12 | 11 | 13 |
| | | 142 | 122 | 420 | 9 | 5 | 9 | 12 | 3 | 2 | 6 | 7 | 12 | 9 |
| | | 143 | 108 | 418 | 3 | 6 | 9 | 11 | 7 | 8 | 10 | 8 | 8 | 11 |
| | | 144 | 60 | 417 | 5 | 9 | 5 | 9 | 9 | 6 | 8 | 4 | 13 | 10 |
| | | 145 | 155 | 416 | 2 | 6 | 5 | 6 | 19 | 8 | 9 | 10 | 11 | 8 |
| | | 146 | 106 | 413 | 3 | 6 | 10 | 11 | 5 | 7 | 8 | 9 | 14 | 8 |
| | | 147 | 117 | 408 | 9 | 9 | 7 | 3 | 4 | 6 | 2 | 12 | 15 | 5 |
| | | 148 | 257 | 398 | 8 | 4 | 7 | 8 | 11 | 3 | 9 | 6 | 5 | 5 |
| | | 149 | 149 | 398 | 2 | 3 | 6 | 13 | 9 | 9 | 8 | 15 | 9 | 11 |
| | | 150 | 143 | 397 | 9 | 9 | 2 | 6 | 6 | 7 | 7 | 8 | 6 | 6 |
| | | 151 | 145 | 397 | 4 | 5 | 8 | 11 | 6 | 7 | 11 | 6 | 6 | 13 |
| | | 152 | - | 396 | 5 | 4 | 9 | 8 | 7 | 11 | 7 | 8 | 4 | 11 |
| | | 153 | 118 | 396 | 3 | 5 | 9 | 7 | 8 | 12 | 5 | 13 | 5 | 12 |
| | | 154 | 136 | 390 | 10 | 5 | 8 | 4 | 4 | 9 | 6 | 7 | 4 | 6 |
| | | 155 | 142 | 389 | 5 | 4 | 5 | 11 | 9 | 9 | 3 | 10 | 13 | 5 |
| | | 156 | - | 389 | 3 | 5 | 6 | 8 | 11 | 8 | 7 | 7 | 15 | 14 |
| | | 157 | 207 | 387 | 3 | 5 | 12 | 7 | 6 | 9 | 9 | 5 | 7 | 10 |
| | | 158 | 141 | 384 | 4 | 5 | 4 | 11 | 9 | 7 | 8 | 7 | 10 | 15 |
| | | 159 | 174 | 383 | 8 | 3 | 12 | 8 | 5 | 5 | 4 | 4 | 7 | 8 |
| | | 160 | - | 381 | 11 | 5 | 4 | 7 | 7 | 3 | 5 | 5 | 8 | 10 |
| | | 161 | 130 | 380 | 1 | 5 | 9 | 10 | 8 | 11 | 9 | 4 | 9 | 7 |
| | | 162 | 119 | 376 | 3 | 5 | 5 | 1 | 11 | 12 | 17 | 8 | 8 | 9 |
| | | 163 | 120 | 374 | 9 | 7 | 5 | 7 | 2 | 7 | 5 | 6 | 7 | 8 |
| | | 164 | - | 371 | 8 | 5 | 6 | 6 | 7 | 5 | 8 | 5 | 8 | 5 |
| | | 165 | 167 | 367 | 3 | 8 | 6 | 7 | 5 | 8 | 10 | 6 | 9 | 8 |
| | | 166 | - | 367 | 2 | 6 | 5 | 7 | 7 | 12 | 10 | 7 | 12 | 7 |
| | | 167 | 140 | 366 | 1 | 11 | 4 | 9 | 9 | 6 | 3 | 10 | 8 | 7 |
| | | 168 | 188 | 363 | 5 | 2 | 10 | 7 | 9 | 8 | 2 | 10 | 7 | 8 |
| | | 169 | 129 | 362 | 13 | 7 | 5 | 3 | 2 | 3 | 6 | 3 | 6 | 3 |
| | | 170 | 121 | 361 | 5 | 6 | 4 | 11 | 6 | 7 | 5 | 8 | 4 | 9 |
| | | 171 | 169 | 359 | 5 | 4 | 11 | 2 | 8 | 6 | 7 | 3 | 15 | 12 |
| | | 172 | 124 | 356 | 2 | 3 | 4 | 3 | 7 | 12 | 19 | 10 | 13 | 15 |
| | | 173 | - | 353 | 5 | 7 | 7 | 5 | 9 | 6 | 3 | 7 | 5 | 5 |
| | | 174 | 173 | 352 | 4 | 5 | 5 | 5 | 8 | 14 | 7 | 6 | 6 | 3 |
| | | 175 | 316 | 350 | 9 | 11 | 6 | 6 | 3 | 1 | 2 | 2 | 1 | 3 |
| | | 176 | 135 | 350 | 2 | 7 | 10 | 11 | 8 | 4 | 2 | 4 | 4 | 3 |
| | | 177 | 238 | 346 | 5 | 5 | 4 | 7 | 9 | 8 | 4 | 8 | 5 | 11 |
| | | 178 | 204 | 346 | 1 | 9 | 9 | 6 | 11 | 5 | 5 | 5 | 1 | 2 |
| | | 179 | 770 | 342 | 28 | 0 | 0 | 0 | 0 | 0 | 1 | 0 | 0 | 2 |
| | | 180 | 156 | 342 | 3 | 6 | 7 | 8 | 6 | 7 | 4 | 8 | 8 | 7 |
| | | 181 | 162 | 341 | 7 | 7 | 4 | 5 | 7 | 7 | 6 | 3 | 2 | 6 |
| | | 182 | 202 | 337 | 3 | 5 | 4 | 3 | 10 | 11 | 8 | 11 | 6 | 6 |
| | | 183 | 244 | 336 | 1 | 9 | 5 | 8 | 8 | 8 | 5 | 4 | 6 | 6 |
| | | 184 | 133 | 335 | 4 | 6 | 4 | 9 | 10 | 2 | 4 | 8 | 6 | 10 |
| | | 185 | 94 | 332 | 9 | 1 | 6 | 7 | 8 | 7 | 2 | 3 | 4 | 9 |
| | | 186 | 148 | 332 | 6 | 3 | 8 | 4 | 6 | 7 | 5 | 6 | 10 | 9 |
| | | 187 | 254 | 331 | 6 | 4 | 6 | 2 | 9 | 5 | 11 | 4 | 8 | 6 |
| | | 188 | 276 | 328 | 6 | 4 | 4 | 6 | 4 | 4 | 12 | 9 | 10 | 3 |
| | | 189 | - | 326 | 7 | 3 | 3 | 9 | 4 | 7 | 3 | 12 | 5 | 8 |
| | | 190 | 113 | 323 | 4 | 3 | 7 | 7 | 5 | 3 | 8 | 12 | 5 | 17 |
| | | 191 | 342 | 322 | 3 | 7 | 4 | 10 | 6 | 2 | 10 | 4 | 4 | 8 |
| | | 192 | 138 | 321 | 4 | 4 | 4 | 3 | 10 | 9 | 10 | 3 | 9 | 8 |
| | | 193 | 337 | 315 | 6 | 6 | 5 | 2 | 5 | 5 | 8 | 3 | 13 | 7 |
| | | 194 | 246 | 312 | 2 | 6 | 7 | 10 | 5 | 4 | 6 | 5 | 4 | 5 |
| | | 195 | 405 | 308 | 10 | 3 | 7 | 4 | 4 | 2 | 3 | 3 | 7 | 5 |
| | | 196 | 232 | 307 | 6 | 5 | 7 | 3 | 8 | 5 | 4 | 2 | 4 | 5 |
| | | 197 | 223 | 302 | 4 | 2 | 11 | 9 | 5 | 1 | 5 | 1 | 10 | 5 |
| | | 198 | 144 | 299 | 3 | 8 | 3 | 5 | 6 | 4 | 11 | 4 | 5 | 2 |
| | | 199 | 151 | 297 | 7 | 5 | 3 | 2 | 5 | 6 | 6 | 6 | 9 | 5 |
| | | 200 | 147 | 293 | 3 | 4 | 8 | 2 | 7 | 4 | 6 | 7 | 13 | 6 |
| | | 201 | 383 | 292 | 5 | 7 | 7 | 0 | 4 | 7 | 6 | 6 | 2 | 1 |
| | | 202 | 209 | 291 | 3 | 5 | 1 | 7 | 5 | 7 | 6 | 11 | 10 | 6 |
| | | 203 | 107 | 289 | 4 | 6 | 6 | 6 | 3 | 5 | 4 | 3 | 7 | 9 |
| | | 204 | 191 | 289 | 4 | 6 | 2 | 5 | 5 | 9 | 6 | 4 | 6 | 7 |
| | | 205 | 161 | 288 | 4 | 4 | 3 | 7 | 4 | 7 | 4 | 8 | 10 | 8 |
| | | 206 | 322 | 288 | 2 | 4 | 9 | 7 | 4 | 3 | 4 | 10 | 6 | 6 |
| | | 207 | 248 | 287 | 1 | 3 | 8 | 5 | 7 | 5 | 12 | 5 | 6 | 4 |
| | | 208 | 288 | 286 | 5 | 5 | 4 | 6 | 6 | 5 | 1 | 7 | 5 | 6 |
| | | 209 | 153 | 285 | 6 | 4 | 0 | 6 | 5 | 6 | 8 | 4 | 11 | 5 |
| | | 210 | 304 | 285 | 4 | 4 | 3 | 6 | 8 | 6 | 6 | 6 | 4 | 3 |
| | | 211 | - | 284 | 8 | 7 | 2 | 2 | 4 | 2 | 5 | 7 | 5 | 3 |
| | | 212 | 186 | 279 | 3 | 6 | 5 | 10 | 3 | 5 | 4 | 2 | 1 | 6 |
| | | 213 | 196 | 279 | 2 | 7 | 2 | 6 | 6 | 4 | 5 | 10 | 7 | 7 |
| | | 214 | 538 | 278 | 6 | 5 | 8 | 6 | 5 | 1 | 3 | 0 | 1 | 1 |
| | | 215 | 194 | 277 | 2 | 6 | 3 | 4 | 6 | 5 | 9 | 4 | 12 | 8 |
| | | 216 | 279 | 275 | 8 | 4 | 1 | 9 | 2 | 4 | 3 | 3 | 6 | 3 |
| | | 217 | 358 | 275 | 5 | 7 | 1 | 3 | 5 | 8 | 6 | 4 | 2 | 6 |
| | | 218 | 646 | 275 | 4 | 6 | 6 | 2 | 1 | 9 | 6 | 5 | 7 | 1 |
| | | 219 | 388 | 273 | 4 | 10 | 4 | 4 | 4 | 4 | 3 | 0 | 2 | 5 |
| | | 220 | 225 | 272 | 1 | 6 | 6 | 7 | 4 | 6 | 6 | 2 | 7 | 5 |
| | | 221 | 280 | 271 | 1 | 7 | 5 | 7 | 6 | 4 | 5 | 4 | 4 | 4 |
| | | 222 | 154 | 270 | 3 | 6 | 6 | 5 | 6 | 2 | 3 | 7 | 4 | 4 |
| | | 223 | 127 | 269 | 4 | 4 | 3 | 3 | 3 | 10 | 4 | 10 | 8 | 6 |
| | | 224 | 213 | 269 | 1 | 3 | 8 | 5 | 8 | 6 | 5 | 5 | 2 | 11 |
| | | 225 | 247 | 269 | 1 | 3 | 7 | 6 | 5 | 4 | 9 | 6 | 10 | 5 |
| | | 226 | 230 | 267 | 3 | 10 | 3 | 0 | 5 | 2 | 10 | 4 | 4 | 7 |
| | | 227 | 242 | 266 | 9 | 2 | 5 | 3 | 4 | 4 | 3 | 2 | 5 | 5 |
| | | 228 | - | 264 | 4 | 3 | 4 | 8 | 5 | 3 | 3 | 8 | 6 | 5 |
| | | 229 | 667 | 263 | 11 | 1 | 7 | 3 | 1 | 4 | 1 | 2 | 1 | 6 |
| | | 230 | 224 | 263 | 3 | 1 | 2 | 5 | 5 | 6 | 11 | 11 | 10 | 9 |
| | | 231 | 177 | 259 | 2 | 5 | 3 | 5 | 3 | 6 | 12 | 6 | 4 | 4 |
| | | 232 | 297 | 258 | 5 | 2 | 7 | 6 | 5 | 3 | 3 | 1 | 6 | 8 |
| | | 233 | 589 | 255 | 6 | 3 | 3 | 3 | 6 | 3 | 11 | 0 | 3 | 7 |
| | | 234 | 206 | 255 | 5 | 2 | 5 | 1 | 7 | 4 | 4 | 11 | 5 | 7 |
| | | 235 | 197 | 255 | 3 | 3 | 4 | 3 | 3 | 9 | 9 | 5 | 7 | 8 |
| | | 236 | 245 | 255 | 1 | 2 | 5 | 6 | 4 | 9 | 3 | 12 | 8 | 8 |
| | | 237 | 116 | 254 | 3 | 2 | 2 | 6 | 9 | 5 | 5 | 4 | 8 | 13 |
| | | 238 | 249 | 254 | 3 | 1 | 5 | 8 | 5 | 6 | 6 | 6 | 3 | 4 |
| | | 239 | 597 | 253 | 4 | 6 | 3 | 5 | 2 | 6 | 4 | 4 | 4 | 8 |
| | | 240 | 171 | 252 | 3 | 5 | 5 | 3 | 2 | 7 | 8 | 7 | 1 | 3 |
| | | 241 | 531 | 247 | 6 | 6 | 0 | 4 | 5 | 2 | 6 | 3 | 4 | 6 |
| | | 242 | 992 | 247 | 4 | 1 | 7 | 4 | 4 | 6 | 5 | 5 | 5 | 6 |
| | | 243 | 176 | 247 | 2 | 1 | 4 | 10 | 5 | 5 | 5 | 7 | 7 | 1 |
| | | 244 | 726 | 246 | 0 | 3 | 9 | 6 | 6 | 4 | 1 | 8 | 7 | 4 |
| | | 245 | 159 | 245 | 2 | 5 | 3 | 4 | 5 | 5 | 7 | 5 | 7 | 7 |
| | | 246 | 219 | 241 | 4 | 1 | 3 | 4 | 6 | 5 | 4 | 8 | 11 | 8 |
| | | 247 | 268 | 241 | 1 | 8 | 3 | 5 | 3 | 4 | 4 | 8 | 4 | 4 |
| | | 248 | 211 | 240 | 7 | 3 | 2 | 3 | 6 | 2 | 5 | 4 | 4 | 3 |
| | | 249 | 229 | 240 | 3 | 2 | 6 | 4 | 8 | 2 | 6 | 4 | 5 | 4 |
| | | 250 | 325 | 237 | 6 | 1 | 3 | 3 | 2 | 10 | 5 | 5 | 5 | 3 |