Top 250 2020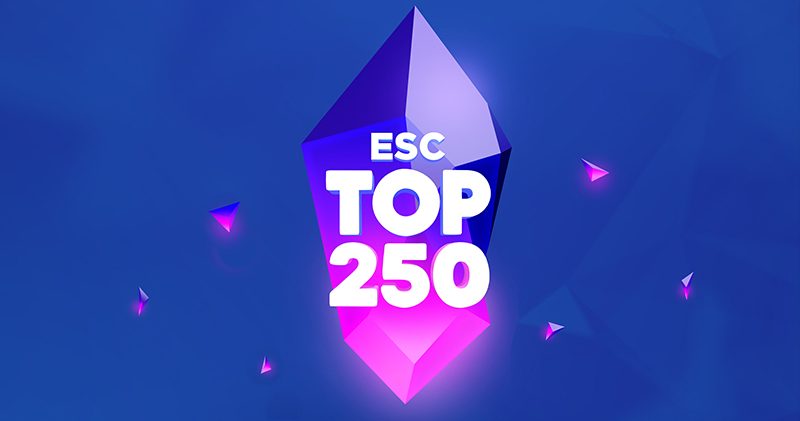 Everything you need to know about the upcoming ESC Top 250
It's almost that time of the year again! The ESC Top 250 is getting closer. 2020 has been quite the year, and the upcoming holiday season will be unlike any others, including December 31st. The only thing that we won't take away from you is to enjoy the 250 most popular songs from 65 years of the Eurovision Song Contest, chosen by you.
We're all ready for some great news, which is why we are proud to present the new logo for 2020. With this we are officially ready for a new ESC Top 250. For the fourth year in a row, Songfestival.be is responsible for the organisation. Behind the scenes we are working hard to again receive and process your votes en masse this year. More information about this year's edition will be released in the coming weeks. What we can already reveal is that we will give you more than enough time to get to that ultimate top ten. The ESC Top 250 will be broadcast, as usual, on ESCRadio on December 31st.
It's almost that time again!! The ESC Top 250 2020 is happening on December 31st. We're proud to present our new logo. More information about the voting is coming in the next weeks.

Geplaatst door ESC Top 250 op Donderdag 1 oktober 2020
Songs from 2020
We've got a lot of questions on social media about the songs that normally had competed in 2020. The participating artists and broadcasters did not violate any rules, but were still collectively excluded from the competition due to force majeure. As these are external factors beyond the will and abilities of individuals and broadcasters, and to honour the candidates and songs of 2020, we have decided to include this year's 41 songs in the ESC Top 250 vote, in November and December this year.
‼️NEWS‼️#Eurovision #Esc250 pic.twitter.com/LSeG8tj2c1

— Songfestival.be (@Songfestival_be) May 17, 2020
Trending topic across Europe
Last year, #ESC250 was one of the most used hashtags on social media during the broadcast. In several European countries the hashtag even became trending topic. Of course we want to do even better this year, so we hope to see you all online to join the conversation about the songs from the ESC Top 250 and connect. We may not have a big party, but don't let it stop you from forgetting all the bad news for just one day, together with fans from all over the world and celebrate the Eurovision Song Contest.
Take a look at the 2019 results below
| Year | Artist | # | '18 | Pts | 12p | 10p | 8p | 7p | 6p | 5p | 4p | 3p | 2p | 1p |
| --- | --- | --- | --- | --- | --- | --- | --- | --- | --- | --- | --- | --- | --- | --- |
| | | 1 | 1 | 8599 | 271 | 170 | 158 | 126 | 88 | 81 | 61 | 52 | 57 | 54 |
| | | 2 | - | 7053 | 232 | 143 | 98 | 92 | 83 | 67 | 63 | 59 | 48 | 53 |
| | | 3 | 2 | 6030 | 130 | 152 | 109 | 91 | 86 | 71 | 53 | 68 | 56 | 42 |
| | | 4 | - | 4175 | 80 | 92 | 73 | 62 | 74 | 60 | 51 | 63 | 47 | 46 |
| | | 5 | - | 3429 | 67 | 77 | 59 | 51 | 56 | 56 | 54 | 35 | 28 | 33 |
| | | 6 | 7 | 3241 | 67 | 62 | 51 | 59 | 50 | 52 | 54 | 41 | 34 | 29 |
| | | 7 | 3 | 3115 | 103 | 53 | 47 | 48 | 31 | 35 | 29 | 28 | 23 | 30 |
| | | 8 | 4 | 2763 | 66 | 55 | 50 | 36 | 43 | 43 | 28 | 30 | 32 | 30 |
| | | 9 | 6 | 2748 | 66 | 53 | 51 | 42 | 36 | 37 | 30 | 41 | 24 | 32 |
| | | 10 | 10 | 2711 | 68 | 52 | 60 | 43 | 29 | 32 | 30 | 23 | 24 | 23 |
| | | 11 | 5 | 2651 | 51 | 45 | 46 | 53 | 42 | 43 | 34 | 46 | 38 | 33 |
| | | 12 | 8 | 2504 | 50 | 45 | 49 | 50 | 33 | 37 | 40 | 35 | 23 | 18 |
| | | 13 | - | 2398 | 58 | 59 | 36 | 32 | 27 | 32 | 33 | 20 | 29 | 28 |
| | | 14 | 9 | 2370 | 68 | 37 | 36 | 38 | 30 | 36 | 32 | 28 | 23 | 12 |
| | | 15 | 14 | 2237 | 33 | 56 | 46 | 34 | 34 | 38 | 32 | 26 | 21 | 33 |
| | | 16 | 16 | 2217 | 42 | 33 | 43 | 40 | 45 | 41 | 31 | 25 | 31 | 23 |
| | | 17 | 17 | 2209 | 26 | 38 | 48 | 44 | 40 | 43 | 34 | 44 | 34 | 34 |
| | | 18 | 12 | 2204 | 41 | 44 | 36 | 42 | 41 | 28 | 34 | 31 | 26 | 23 |
| | | 19 | 32 | 2203 | 13 | 60 | 58 | 44 | 44 | 33 | 21 | 28 | 25 | 28 |
| | | 20 | 11 | 2054 | 36 | 45 | 42 | 34 | 25 | 30 | 36 | 23 | 24 | 37 |
| | | 21 | 13 | 2021 | 46 | 42 | 21 | 30 | 36 | 38 | 27 | 24 | 28 | 29 |
| | | 22 | 19 | 1995 | 35 | 41 | 33 | 36 | 36 | 31 | 31 | 30 | 21 | 22 |
| | | 23 | 20 | 1965 | 29 | 46 | 40 | 34 | 38 | 27 | 27 | 19 | 22 | 27 |
| | | 24 | 15 | 1930 | 26 | 25 | 31 | 43 | 33 | 42 | 46 | 46 | 31 | 27 |
| | | 25 | 25 | 1848 | 30 | 30 | 47 | 35 | 26 | 27 | 29 | 30 | 21 | 28 |
| | | 26 | - | 1751 | 33 | 49 | 27 | 34 | 18 | 25 | 16 | 23 | 15 | 15 |
| | | 27 | 21 | 1743 | 38 | 31 | 17 | 25 | 37 | 31 | 26 | 33 | 30 | 26 |
| | | 28 | 18 | 1743 | 22 | 28 | 30 | 44 | 27 | 35 | 39 | 19 | 37 | 27 |
| | | 29 | - | 1738 | 115 | 4 | 12 | 10 | 8 | 10 | 3 | 8 | 5 | 8 |
| | | 30 | 27 | 1691 | 15 | 35 | 34 | 31 | 33 | 30 | 40 | 28 | 28 | 24 |
| | | 31 | 22 | 1619 | 20 | 22 | 26 | 29 | 34 | 34 | 43 | 42 | 29 | 18 |
| | | 32 | 30 | 1547 | 28 | 34 | 29 | 27 | 19 | 19 | 24 | 26 | 24 | 19 |
| | | 33 | 34 | 1495 | 18 | 31 | 35 | 23 | 28 | 25 | 31 | 19 | 18 | 18 |
| | | 34 | - | 1445 | 26 | 21 | 28 | 24 | 29 | 27 | 24 | 19 | 23 | 23 |
| | | 35 | 35 | 1435 | 16 | 26 | 30 | 22 | 31 | 37 | 21 | 17 | 26 | 31 |
| | | 36 | 26 | 1371 | 19 | 26 | 18 | 27 | 27 | 25 | 30 | 25 | 22 | 24 |
| | | 37 | 33 | 1356 | 21 | 24 | 25 | 29 | 20 | 26 | 22 | 22 | 19 | 19 |
| | | 38 | 39 | 1278 | 13 | 29 | 28 | 19 | 34 | 18 | 20 | 13 | 23 | 16 |
| | | 39 | 36 | 1270 | 17 | 33 | 26 | 15 | 24 | 20 | 14 | 24 | 18 | 15 |
| | | 40 | - | 1178 | 22 | 17 | 19 | 18 | 22 | 22 | 25 | 22 | 22 | 14 |
| | | 41 | 24 | 1174 | 9 | 28 | 15 | 25 | 25 | 24 | 27 | 19 | 18 | 20 |
| | | 42 | 95 | 1171 | 28 | 23 | 28 | 15 | 16 | 12 | 20 | 8 | 6 | 4 |
| | | 43 | 28 | 1155 | 18 | 19 | 23 | 16 | 23 | 14 | 22 | 31 | 23 | 18 |
| | | 44 | 29 | 1149 | 19 | 24 | 20 | 20 | 20 | 20 | 13 | 20 | 17 | 15 |
| | | 45 | 42 | 1144 | 17 | 15 | 27 | 18 | 19 | 17 | 29 | 23 | 22 | 20 |
| | | 46 | 23 | 1131 | 23 | 17 | 21 | 18 | 20 | 11 | 20 | 24 | 23 | 18 |
| | | 47 | - | 1090 | 14 | 23 | 18 | 24 | 22 | 22 | 16 | 13 | 11 | 13 |
| | | 48 | 31 | 1066 | 62 | 4 | 2 | 5 | 14 | 12 | 10 | 8 | 9 | 5 |
| | | 49 | 48 | 1055 | 16 | 22 | 18 | 19 | 15 | 22 | 13 | 18 | 23 | 14 |
| | | 50 | 45 | 1052 | 10 | 14 | 26 | 17 | 22 | 26 | 21 | 16 | 27 | 17 |
| | | 51 | 41 | 1049 | 10 | 15 | 19 | 19 | 20 | 30 | 21 | 20 | 30 | 20 |
| | | 52 | - | 1040 | 25 | 21 | 17 | 11 | 19 | 11 | 11 | 16 | 19 | 18 |
| | | 53 | 37 | 1037 | 17 | 27 | 28 | 11 | 14 | 11 | 10 | 15 | 11 | 16 |
| | | 54 | 55 | 990 | 14 | 18 | 18 | 14 | 20 | 19 | 19 | 19 | 19 | 14 |
| | | 55 | - | 985 | 15 | 24 | 11 | 15 | 21 | 14 | 14 | 17 | 23 | 23 |
| | | 56 | 40 | 984 | 14 | 17 | 21 | 15 | 26 | 21 | 10 | 14 | 10 | 10 |
| | | 57 | 51 | 981 | 17 | 16 | 23 | 14 | 18 | 13 | 18 | 14 | 18 | 12 |
| | | 58 | 57 | 975 | 16 | 13 | 22 | 15 | 20 | 16 | 19 | 19 | 14 | 11 |
| | | 59 | 43 | 973 | 20 | 16 | 16 | 19 | 12 | 12 | 15 | 18 | 23 | 20 |
| | | 60 | 38 | 951 | 7 | 11 | 21 | 22 | 17 | 22 | 16 | 27 | 32 | 14 |
| | | 61 | 86 | 946 | 50 | 13 | 7 | 4 | 7 | 6 | 4 | 9 | 6 | 5 |
| | | 62 | 68 | 909 | 20 | 17 | 14 | 12 | 17 | 12 | 14 | 17 | 10 | 14 |
| | | 63 | 59 | 901 | 15 | 17 | 14 | 14 | 18 | 15 | 14 | 18 | 16 | 16 |
| | | 64 | 65 | 882 | 8 | 17 | 14 | 17 | 20 | 17 | 19 | 14 | 21 | 20 |
| | | 65 | - | 881 | 15 | 15 | 19 | 12 | 17 | 11 | 15 | 20 | 12 | 14 |
| | | 66 | 53 | 879 | 17 | 14 | 12 | 17 | 19 | 14 | 13 | 18 | 8 | 14 |
| | | 67 | 96 | 867 | 13 | 11 | 20 | 19 | 12 | 16 | 12 | 19 | 17 | 17 |
| | | 68 | 78 | 863 | 25 | 19 | 11 | 11 | 9 | 15 | 8 | 6 | 9 | 11 |
| | | 69 | 62 | 822 | 10 | 20 | 16 | 19 | 11 | 9 | 13 | 13 | 13 | 13 |
| | | 70 | 77 | 814 | 9 | 9 | 10 | 16 | 26 | 22 | 17 | 14 | 17 | 14 |
| | | 71 | 47 | 812 | 16 | 12 | 13 | 13 | 15 | 20 | 14 | 9 | 10 | 12 |
| | | 72 | 80 | 812 | 12 | 13 | 12 | 20 | 16 | 22 | 9 | 11 | 9 | 9 |
| | | 73 | 105 | 811 | 16 | 17 | 11 | 20 | 5 | 14 | 14 | 14 | 7 | 9 |
| | | 74 | 46 | 806 | 10 | 19 | 13 | 13 | 10 | 16 | 18 | 11 | 23 | 10 |
| | | 75 | 44 | 803 | 8 | 12 | 16 | 15 | 21 | 17 | 15 | 12 | 17 | 13 |
| | | 76 | 52 | 792 | 15 | 8 | 13 | 16 | 10 | 16 | 17 | 19 | 17 | 17 |
| | | 77 | 49 | 786 | 11 | 12 | 9 | 18 | 16 | 13 | 14 | 19 | 18 | 26 |
| | | 78 | 76 | 784 | 11 | 12 | 14 | 14 | 20 | 10 | 14 | 18 | 14 | 14 |
| | | 79 | 56 | 774 | 10 | 8 | 13 | 18 | 15 | 15 | 16 | 19 | 19 | 20 |
| | | 80 | 111 | 767 | 16 | 16 | 11 | 8 | 8 | 20 | 10 | 14 | 15 | 11 |
| | | 81 | 91 | 762 | 5 | 8 | 15 | 18 | 18 | 18 | 18 | 18 | 16 | 20 |
| | | 82 | 73 | 749 | 17 | 13 | 11 | 13 | 13 | 6 | 11 | 19 | 7 | 13 |
| | | 83 | 97 | 749 | 8 | 16 | 12 | 13 | 12 | 17 | 9 | 17 | 18 | 26 |
| | | 84 | 54 | 734 | 10 | 9 | 14 | 14 | 13 | 14 | 16 | 24 | 7 | 16 |
| | | 85 | 88 | 734 | 7 | 18 | 17 | 11 | 7 | 13 | 14 | 15 | 17 | 15 |
| | | 86 | 82 | 732 | 14 | 12 | 8 | 13 | 11 | 19 | 14 | 11 | 13 | 13 |
| | | 87 | 50 | 710 | 15 | 10 | 16 | 9 | 11 | 13 | 11 | 11 | 10 | 11 |
| | | 88 | 63 | 691 | 9 | 7 | 19 | 14 | 6 | 21 | 13 | 12 | 12 | 10 |
| | | 89 | - | 691 | 3 | 10 | 16 | 13 | 15 | 14 | 24 | 18 | 10 | 6 |
| | | 90 | 83 | 689 | 9 | 9 | 8 | 19 | 15 | 12 | 17 | 11 | 16 | 11 |
| | | 91 | 74 | 676 | 8 | 12 | 9 | 17 | 17 | 15 | 8 | 10 | 10 | 10 |
| | | 92 | 58 | 659 | 16 | 9 | 6 | 9 | 10 | 14 | 19 | 7 | 15 | 9 |
| | | 93 | 71 | 655 | 7 | 6 | 14 | 15 | 11 | 16 | 13 | 12 | 21 | 18 |
| | | 94 | - | 649 | 10 | 5 | 11 | 16 | 13 | 14 | 13 | 10 | 20 | 9 |
| | | 95 | 69 | 646 | 6 | 10 | 14 | 11 | 17 | 12 | 15 | 12 | 10 | 7 |
| | | 96 | 75 | 645 | 7 | 9 | 14 | 10 | 13 | 14 | 18 | 14 | 10 | 7 |
| | | 97 | 98 | 637 | 5 | 15 | 11 | 8 | 11 | 19 | 12 | 11 | 15 | 11 |
| | | 98 | 220 | 629 | 9 | 9 | 14 | 13 | 8 | 12 | 15 | 13 | 5 | 11 |
| | | 99 | 93 | 628 | 8 | 13 | 12 | 9 | 13 | 11 | 13 | 12 | 6 | 10 |
| | | 100 | - | 627 | 12 | 10 | 19 | 6 | 7 | 10 | 9 | 13 | 7 | 8 |
| | | 101 | 90 | 626 | 6 | 14 | 11 | 8 | 16 | 14 | 11 | 12 | 9 | 6 |
| | | 102 | 72 | 613 | 9 | 12 | 7 | 11 | 12 | 11 | 14 | 13 | 9 | 12 |
| | | 103 | 85 | 612 | 3 | 7 | 18 | 11 | 8 | 16 | 17 | 12 | 18 | 17 |
| | | 104 | 92 | 610 | 11 | 13 | 7 | 13 | 9 | 7 | 9 | 13 | 14 | 9 |
| | | 105 | 81 | 602 | 9 | 6 | 13 | 11 | 9 | 12 | 18 | 12 | 11 | 9 |
| | | 106 | 265 | 591 | 10 | 11 | 14 | 9 | 13 | 5 | 8 | 12 | 5 | 5 |
| | | 107 | 243 | 584 | 7 | 8 | 8 | 14 | 8 | 12 | 18 | 10 | 17 | 14 |
| | | 108 | 66 | 578 | 5 | 13 | 12 | 13 | 9 | 11 | 10 | 8 | 9 | 10 |
| | | 109 | 64 | 576 | 5 | 13 | 17 | 11 | 6 | 10 | 11 | 6 | 4 | 17 |
| | | 110 | 89 | 572 | 4 | 7 | 14 | 10 | 14 | 10 | 16 | 12 | 12 | 14 |
| | | 111 | - | 568 | 11 | 8 | 8 | 6 | 10 | 11 | 11 | 14 | 15 | 19 |
| | | 112 | 101 | 564 | 11 | 7 | 10 | 8 | 9 | 11 | 15 | 11 | 9 | 6 |
| | | 113 | 99 | 539 | 17 | 9 | 11 | 3 | 10 | 1 | 6 | 7 | 10 | 6 |
| | | 114 | 84 | 523 | 8 | 7 | 15 | 7 | 8 | 10 | 11 | 7 | 8 | 9 |
| | | 115 | 61 | 522 | 9 | 12 | 8 | 9 | 8 | 6 | 10 | 9 | 8 | 6 |
| | | 116 | 67 | 517 | 5 | 7 | 6 | 13 | 8 | 10 | 20 | 10 | 15 | 10 |
| | | 117 | 104 | 516 | 12 | 6 | 9 | 5 | 9 | 11 | 9 | 12 | 3 | 18 |
| | | 118 | 258 | 516 | 6 | 12 | 11 | 13 | 10 | 10 | 3 | 2 | 4 | 9 |
| | | 119 | 110 | 514 | 12 | 9 | 5 | 11 | 5 | 6 | 15 | 6 | 9 | 7 |
| | | 120 | 102 | 508 | 7 | 7 | 8 | 11 | 13 | 7 | 11 | 8 | 10 | 12 |
| | | 121 | 87 | 506 | 10 | 6 | 7 | 7 | 11 | 11 | 13 | 10 | 4 | 10 |
| | | 122 | 137 | 501 | 7 | 7 | 8 | 10 | 9 | 6 | 14 | 9 | 19 | 8 |
| | | 123 | 192 | 500 | 9 | 11 | 9 | 9 | 9 | 4 | 8 | 10 | 4 | 3 |
| | | 124 | 79 | 496 | 7 | 5 | 9 | 11 | 8 | 8 | 12 | 15 | 11 | 10 |
| | | 125 | 114 | 488 | 6 | 5 | 6 | 12 | 15 | 7 | 10 | 11 | 14 | 8 |
| | | 126 | 574 | 484 | 9 | 8 | 11 | 11 | 9 | 4 | 6 | 7 | 4 | 4 |
| | | 127 | 125 | 483 | 9 | 14 | 6 | 8 | 7 | 2 | 12 | 5 | 6 | 4 |
| | | 128 | 103 | 481 | 5 | 10 | 10 | 8 | 9 | 7 | 8 | 13 | 7 | 11 |
| | | 129 | 100 | 479 | 9 | 8 | 11 | 7 | 8 | 8 | 6 | 10 | 5 | 2 |
| | | 130 | 139 | 479 | 4 | 10 | 8 | 6 | 9 | 14 | 9 | 10 | 10 | 15 |
| | | 131 | 123 | 473 | 8 | 9 | 3 | 4 | 10 | 11 | 13 | 13 | 11 | 7 |
| | | 132 | 234 | 471 | 12 | 10 | 7 | 3 | 7 | 11 | 0 | 9 | 11 | 4 |
| | | 133 | 115 | 463 | 14 | 6 | 6 | 10 | 6 | 5 | 4 | 8 | 6 | 4 |
| | | 134 | 146 | 461 | 4 | 9 | 7 | 7 | 6 | 11 | 7 | 21 | 11 | 14 |
| | | 135 | 126 | 452 | 8 | 9 | 6 | 6 | 8 | 6 | 7 | 10 | 15 | 10 |
| | | 136 | 128 | 448 | 4 | 8 | 6 | 13 | 11 | 10 | 5 | 5 | 10 | 10 |
| | | 137 | 112 | 445 | 4 | 12 | 11 | 4 | 10 | 3 | 10 | 8 | 7 | 8 |
| | | 138 | 170 | 444 | 7 | 10 | 6 | 6 | 7 | 9 | 13 | 4 | 6 | 7 |
| | | 139 | 237 | 442 | 3 | 3 | 13 | 5 | 16 | 10 | 10 | 7 | 10 | 10 |
| | | 140 | 160 | 436 | 11 | 12 | 4 | 6 | 4 | 4 | 8 | 1 | 9 | 13 |
| | | 141 | 70 | 435 | 3 | 7 | 6 | 9 | 14 | 7 | 7 | 12 | 11 | 13 |
| | | 142 | 122 | 420 | 9 | 5 | 9 | 12 | 3 | 2 | 6 | 7 | 12 | 9 |
| | | 143 | 108 | 418 | 3 | 6 | 9 | 11 | 7 | 8 | 10 | 8 | 8 | 11 |
| | | 144 | 60 | 417 | 5 | 9 | 5 | 9 | 9 | 6 | 8 | 4 | 13 | 10 |
| | | 145 | 155 | 416 | 2 | 6 | 5 | 6 | 19 | 8 | 9 | 10 | 11 | 8 |
| | | 146 | 106 | 413 | 3 | 6 | 10 | 11 | 5 | 7 | 8 | 9 | 14 | 8 |
| | | 147 | 117 | 408 | 9 | 9 | 7 | 3 | 4 | 6 | 2 | 12 | 15 | 5 |
| | | 148 | 257 | 398 | 8 | 4 | 7 | 8 | 11 | 3 | 9 | 6 | 5 | 5 |
| | | 149 | 149 | 398 | 2 | 3 | 6 | 13 | 9 | 9 | 8 | 15 | 9 | 11 |
| | | 150 | 143 | 397 | 9 | 9 | 2 | 6 | 6 | 7 | 7 | 8 | 6 | 6 |
| | | 151 | 145 | 397 | 4 | 5 | 8 | 11 | 6 | 7 | 11 | 6 | 6 | 13 |
| | | 152 | - | 396 | 5 | 4 | 9 | 8 | 7 | 11 | 7 | 8 | 4 | 11 |
| | | 153 | 118 | 396 | 3 | 5 | 9 | 7 | 8 | 12 | 5 | 13 | 5 | 12 |
| | | 154 | 136 | 390 | 10 | 5 | 8 | 4 | 4 | 9 | 6 | 7 | 4 | 6 |
| | | 155 | 142 | 389 | 5 | 4 | 5 | 11 | 9 | 9 | 3 | 10 | 13 | 5 |
| | | 156 | - | 389 | 3 | 5 | 6 | 8 | 11 | 8 | 7 | 7 | 15 | 14 |
| | | 157 | 207 | 387 | 3 | 5 | 12 | 7 | 6 | 9 | 9 | 5 | 7 | 10 |
| | | 158 | 141 | 384 | 4 | 5 | 4 | 11 | 9 | 7 | 8 | 7 | 10 | 15 |
| | | 159 | 174 | 383 | 8 | 3 | 12 | 8 | 5 | 5 | 4 | 4 | 7 | 8 |
| | | 160 | - | 381 | 11 | 5 | 4 | 7 | 7 | 3 | 5 | 5 | 8 | 10 |
| | | 161 | 130 | 380 | 1 | 5 | 9 | 10 | 8 | 11 | 9 | 4 | 9 | 7 |
| | | 162 | 119 | 376 | 3 | 5 | 5 | 1 | 11 | 12 | 17 | 8 | 8 | 9 |
| | | 163 | 120 | 374 | 9 | 7 | 5 | 7 | 2 | 7 | 5 | 6 | 7 | 8 |
| | | 164 | - | 371 | 8 | 5 | 6 | 6 | 7 | 5 | 8 | 5 | 8 | 5 |
| | | 165 | 167 | 367 | 3 | 8 | 6 | 7 | 5 | 8 | 10 | 6 | 9 | 8 |
| | | 166 | - | 367 | 2 | 6 | 5 | 7 | 7 | 12 | 10 | 7 | 12 | 7 |
| | | 167 | 140 | 366 | 1 | 11 | 4 | 9 | 9 | 6 | 3 | 10 | 8 | 7 |
| | | 168 | 188 | 363 | 5 | 2 | 10 | 7 | 9 | 8 | 2 | 10 | 7 | 8 |
| | | 169 | 129 | 362 | 13 | 7 | 5 | 3 | 2 | 3 | 6 | 3 | 6 | 3 |
| | | 170 | 121 | 361 | 5 | 6 | 4 | 11 | 6 | 7 | 5 | 8 | 4 | 9 |
| | | 171 | 169 | 359 | 5 | 4 | 11 | 2 | 8 | 6 | 7 | 3 | 15 | 12 |
| | | 172 | 124 | 356 | 2 | 3 | 4 | 3 | 7 | 12 | 19 | 10 | 13 | 15 |
| | | 173 | - | 353 | 5 | 7 | 7 | 5 | 9 | 6 | 3 | 7 | 5 | 5 |
| | | 174 | 173 | 352 | 4 | 5 | 5 | 5 | 8 | 14 | 7 | 6 | 6 | 3 |
| | | 175 | 316 | 350 | 9 | 11 | 6 | 6 | 3 | 1 | 2 | 2 | 1 | 3 |
| | | 176 | 135 | 350 | 2 | 7 | 10 | 11 | 8 | 4 | 2 | 4 | 4 | 3 |
| | | 177 | 238 | 346 | 5 | 5 | 4 | 7 | 9 | 8 | 4 | 8 | 5 | 11 |
| | | 178 | 204 | 346 | 1 | 9 | 9 | 6 | 11 | 5 | 5 | 5 | 1 | 2 |
| | | 179 | 770 | 342 | 28 | 0 | 0 | 0 | 0 | 0 | 1 | 0 | 0 | 2 |
| | | 180 | 156 | 342 | 3 | 6 | 7 | 8 | 6 | 7 | 4 | 8 | 8 | 7 |
| | | 181 | 162 | 341 | 7 | 7 | 4 | 5 | 7 | 7 | 6 | 3 | 2 | 6 |
| | | 182 | 202 | 337 | 3 | 5 | 4 | 3 | 10 | 11 | 8 | 11 | 6 | 6 |
| | | 183 | 244 | 336 | 1 | 9 | 5 | 8 | 8 | 8 | 5 | 4 | 6 | 6 |
| | | 184 | 133 | 335 | 4 | 6 | 4 | 9 | 10 | 2 | 4 | 8 | 6 | 10 |
| | | 185 | 94 | 332 | 9 | 1 | 6 | 7 | 8 | 7 | 2 | 3 | 4 | 9 |
| | | 186 | 148 | 332 | 6 | 3 | 8 | 4 | 6 | 7 | 5 | 6 | 10 | 9 |
| | | 187 | 254 | 331 | 6 | 4 | 6 | 2 | 9 | 5 | 11 | 4 | 8 | 6 |
| | | 188 | 276 | 328 | 6 | 4 | 4 | 6 | 4 | 4 | 12 | 9 | 10 | 3 |
| | | 189 | - | 326 | 7 | 3 | 3 | 9 | 4 | 7 | 3 | 12 | 5 | 8 |
| | | 190 | 113 | 323 | 4 | 3 | 7 | 7 | 5 | 3 | 8 | 12 | 5 | 17 |
| | | 191 | 342 | 322 | 3 | 7 | 4 | 10 | 6 | 2 | 10 | 4 | 4 | 8 |
| | | 192 | 138 | 321 | 4 | 4 | 4 | 3 | 10 | 9 | 10 | 3 | 9 | 8 |
| | | 193 | 337 | 315 | 6 | 6 | 5 | 2 | 5 | 5 | 8 | 3 | 13 | 7 |
| | | 194 | 246 | 312 | 2 | 6 | 7 | 10 | 5 | 4 | 6 | 5 | 4 | 5 |
| | | 195 | 405 | 308 | 10 | 3 | 7 | 4 | 4 | 2 | 3 | 3 | 7 | 5 |
| | | 196 | 232 | 307 | 6 | 5 | 7 | 3 | 8 | 5 | 4 | 2 | 4 | 5 |
| | | 197 | 223 | 302 | 4 | 2 | 11 | 9 | 5 | 1 | 5 | 1 | 10 | 5 |
| | | 198 | 144 | 299 | 3 | 8 | 3 | 5 | 6 | 4 | 11 | 4 | 5 | 2 |
| | | 199 | 151 | 297 | 7 | 5 | 3 | 2 | 5 | 6 | 6 | 6 | 9 | 5 |
| | | 200 | 147 | 293 | 3 | 4 | 8 | 2 | 7 | 4 | 6 | 7 | 13 | 6 |
| | | 201 | 383 | 292 | 5 | 7 | 7 | 0 | 4 | 7 | 6 | 6 | 2 | 1 |
| | | 202 | 209 | 291 | 3 | 5 | 1 | 7 | 5 | 7 | 6 | 11 | 10 | 6 |
| | | 203 | 107 | 289 | 4 | 6 | 6 | 6 | 3 | 5 | 4 | 3 | 7 | 9 |
| | | 204 | 191 | 289 | 4 | 6 | 2 | 5 | 5 | 9 | 6 | 4 | 6 | 7 |
| | | 205 | 161 | 288 | 4 | 4 | 3 | 7 | 4 | 7 | 4 | 8 | 10 | 8 |
| | | 206 | 322 | 288 | 2 | 4 | 9 | 7 | 4 | 3 | 4 | 10 | 6 | 6 |
| | | 207 | 248 | 287 | 1 | 3 | 8 | 5 | 7 | 5 | 12 | 5 | 6 | 4 |
| | | 208 | 288 | 286 | 5 | 5 | 4 | 6 | 6 | 5 | 1 | 7 | 5 | 6 |
| | | 209 | 153 | 285 | 6 | 4 | 0 | 6 | 5 | 6 | 8 | 4 | 11 | 5 |
| | | 210 | 304 | 285 | 4 | 4 | 3 | 6 | 8 | 6 | 6 | 6 | 4 | 3 |
| | | 211 | - | 284 | 8 | 7 | 2 | 2 | 4 | 2 | 5 | 7 | 5 | 3 |
| | | 212 | 186 | 279 | 3 | 6 | 5 | 10 | 3 | 5 | 4 | 2 | 1 | 6 |
| | | 213 | 196 | 279 | 2 | 7 | 2 | 6 | 6 | 4 | 5 | 10 | 7 | 7 |
| | | 214 | 538 | 278 | 6 | 5 | 8 | 6 | 5 | 1 | 3 | 0 | 1 | 1 |
| | | 215 | 194 | 277 | 2 | 6 | 3 | 4 | 6 | 5 | 9 | 4 | 12 | 8 |
| | | 216 | 279 | 275 | 8 | 4 | 1 | 9 | 2 | 4 | 3 | 3 | 6 | 3 |
| | | 217 | 358 | 275 | 5 | 7 | 1 | 3 | 5 | 8 | 6 | 4 | 2 | 6 |
| | | 218 | 646 | 275 | 4 | 6 | 6 | 2 | 1 | 9 | 6 | 5 | 7 | 1 |
| | | 219 | 388 | 273 | 4 | 10 | 4 | 4 | 4 | 4 | 3 | 0 | 2 | 5 |
| | | 220 | 225 | 272 | 1 | 6 | 6 | 7 | 4 | 6 | 6 | 2 | 7 | 5 |
| | | 221 | 280 | 271 | 1 | 7 | 5 | 7 | 6 | 4 | 5 | 4 | 4 | 4 |
| | | 222 | 154 | 270 | 3 | 6 | 6 | 5 | 6 | 2 | 3 | 7 | 4 | 4 |
| | | 223 | 127 | 269 | 4 | 4 | 3 | 3 | 3 | 10 | 4 | 10 | 8 | 6 |
| | | 224 | 213 | 269 | 1 | 3 | 8 | 5 | 8 | 6 | 5 | 5 | 2 | 11 |
| | | 225 | 247 | 269 | 1 | 3 | 7 | 6 | 5 | 4 | 9 | 6 | 10 | 5 |
| | | 226 | 230 | 267 | 3 | 10 | 3 | 0 | 5 | 2 | 10 | 4 | 4 | 7 |
| | | 227 | 242 | 266 | 9 | 2 | 5 | 3 | 4 | 4 | 3 | 2 | 5 | 5 |
| | | 228 | - | 264 | 4 | 3 | 4 | 8 | 5 | 3 | 3 | 8 | 6 | 5 |
| | | 229 | 667 | 263 | 11 | 1 | 7 | 3 | 1 | 4 | 1 | 2 | 1 | 6 |
| | | 230 | 224 | 263 | 3 | 1 | 2 | 5 | 5 | 6 | 11 | 11 | 10 | 9 |
| | | 231 | 177 | 259 | 2 | 5 | 3 | 5 | 3 | 6 | 12 | 6 | 4 | 4 |
| | | 232 | 297 | 258 | 5 | 2 | 7 | 6 | 5 | 3 | 3 | 1 | 6 | 8 |
| | | 233 | 589 | 255 | 6 | 3 | 3 | 3 | 6 | 3 | 11 | 0 | 3 | 7 |
| | | 234 | 206 | 255 | 5 | 2 | 5 | 1 | 7 | 4 | 4 | 11 | 5 | 7 |
| | | 235 | 197 | 255 | 3 | 3 | 4 | 3 | 3 | 9 | 9 | 5 | 7 | 8 |
| | | 236 | 245 | 255 | 1 | 2 | 5 | 6 | 4 | 9 | 3 | 12 | 8 | 8 |
| | | 237 | 116 | 254 | 3 | 2 | 2 | 6 | 9 | 5 | 5 | 4 | 8 | 13 |
| | | 238 | 249 | 254 | 3 | 1 | 5 | 8 | 5 | 6 | 6 | 6 | 3 | 4 |
| | | 239 | 597 | 253 | 4 | 6 | 3 | 5 | 2 | 6 | 4 | 4 | 4 | 8 |
| | | 240 | 171 | 252 | 3 | 5 | 5 | 3 | 2 | 7 | 8 | 7 | 1 | 3 |
| | | 241 | 531 | 247 | 6 | 6 | 0 | 4 | 5 | 2 | 6 | 3 | 4 | 6 |
| | | 242 | 992 | 247 | 4 | 1 | 7 | 4 | 4 | 6 | 5 | 5 | 5 | 6 |
| | | 243 | 176 | 247 | 2 | 1 | 4 | 10 | 5 | 5 | 5 | 7 | 7 | 1 |
| | | 244 | 726 | 246 | 0 | 3 | 9 | 6 | 6 | 4 | 1 | 8 | 7 | 4 |
| | | 245 | 159 | 245 | 2 | 5 | 3 | 4 | 5 | 5 | 7 | 5 | 7 | 7 |
| | | 246 | 219 | 241 | 4 | 1 | 3 | 4 | 6 | 5 | 4 | 8 | 11 | 8 |
| | | 247 | 268 | 241 | 1 | 8 | 3 | 5 | 3 | 4 | 4 | 8 | 4 | 4 |
| | | 248 | 211 | 240 | 7 | 3 | 2 | 3 | 6 | 2 | 5 | 4 | 4 | 3 |
| | | 249 | 229 | 240 | 3 | 2 | 6 | 4 | 8 | 2 | 6 | 4 | 5 | 4 |
| | | 250 | 325 | 237 | 6 | 1 | 3 | 3 | 2 | 10 | 5 | 5 | 5 | 3 |