Oekraïne
Na hetze over reis naar Krim: Alina Pash trekt zich terug als kandidate Oekraïne
Geen Alina Pash voor Oekraïne op het Eurovisiesongfestival. De zangeres maakt via sociale media bekend dat ze zich terugtrekt als Songfestivalkandidate. Ze doet dat na de politieke hetze die ontstond na haar mogelijks illegale reis naar het door Oekraïne en Rusland betwiste gebied de Krim.
We schreven het gisteren al: de Oekraïense openbare omroep UA:PBC schortte de overeenkomst met Alina Pash om het land te vertegenwoordigen op het Eurovisiesongfestival op. Dat deed de omroep nadat er twijfels waren over Alina's reisdocumenten die haar legale manier van reizen naar de Krim moeten bewijzen. In een verklaring aan BBC Newsbeat zegt de staatsomroep van Oekraïne dat het wacht op de Nationale Grenscontroledienst om duidelijkheid te scheppen over Alina's reisdocumenten. Op de website van de omroep staat te lezen dat er tot die tijd geen overeenkomst zal gesloten worden met Pash om Oekraïne te vertegenwoordigen in Turijn.
Bedreigingen en aanvallen op sociale media
Als er een overeenkomst komt, zal dat alvast niet meer met Alina Pash zijn. Op Instagram schrijft de zangeres dat ze zich terugtrekt. Dat doet ze naar eigen zeggen omdat ze allerlei bedreigingen en haatreacties ontvangen heeft. 'Ik wil deze virtuele oorlog en haat niet', schrijft ze. 'De grote oorlog is die uit het buitenland waar mijn land sinds 2014 door getroffen is. Ik wil geen deel meer uitmaken van dit vuile verhaal en trek daarom mijn kandidatuur voor het Songfestival in.' Hieronder de volledig vertaalde verklaring van Pash.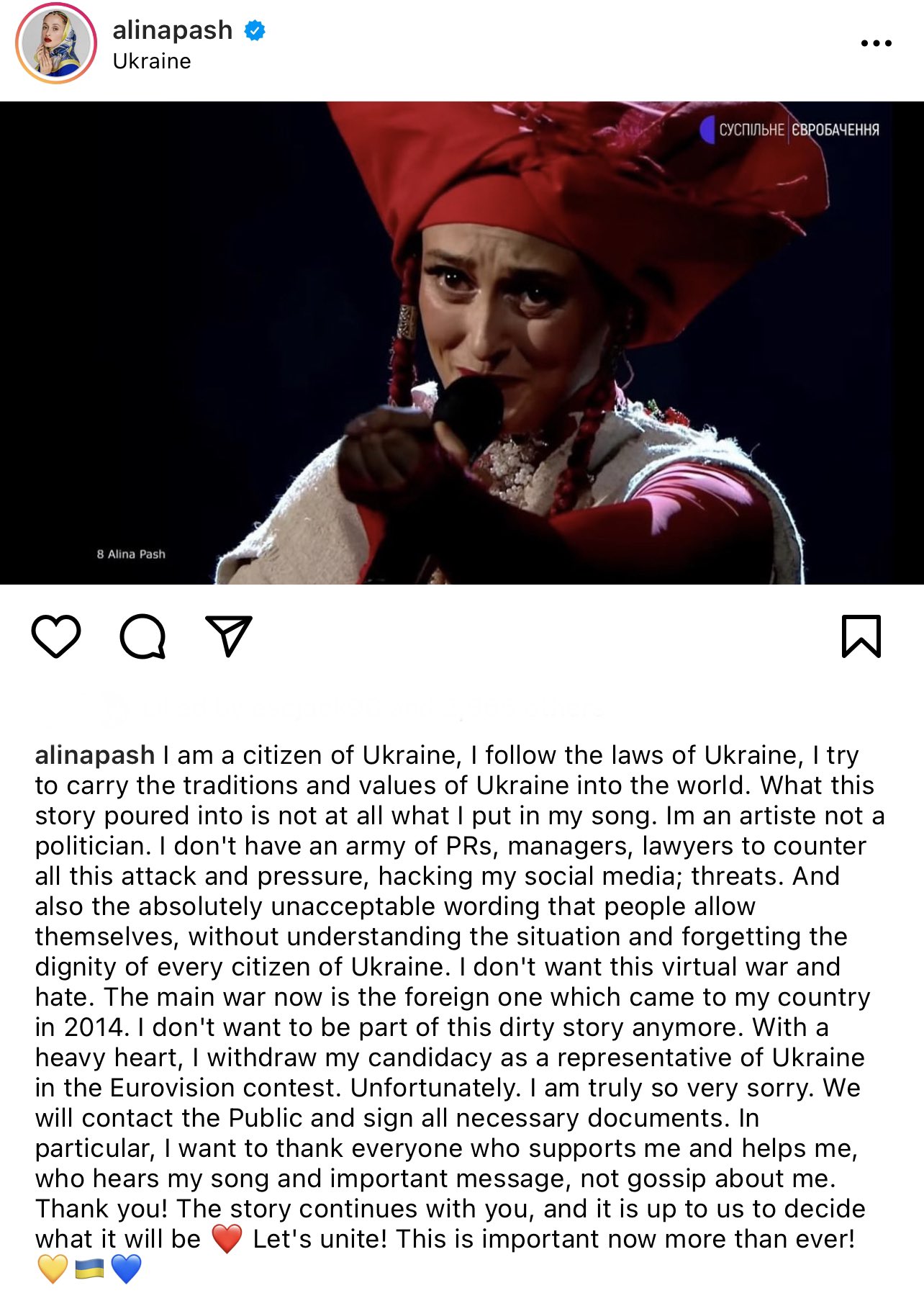 Vervalsing toegegeven
Eerder vandaag gaf Alina Pash trouwens doe dat er gesjoemeld was met haar reisdocumenten. Iemand binnen haar team zou haar willen helpen hebben en kwam met een vervalst document op de proppen. Als inwoner van Oekraïne afreizen naar schiereiland de Krim is geen misdaad, maar je mag dat enkel doen via de grens met Oekraïne.
Deze hetze krijgt extra veel aandacht nu Oekraïne en Rusland op gespannen voet leven. Het is momenteel afwachten of het tot een Russische inval komt. Het is op dit moment niet bekend wat de plannen van omroep UA:PBC zijn. Kiezen ze een nieuwe deelnemer of trekt het land zich, net als in 2019, terug?
Eerdere incidenten 
De slechte diplomatieke relatie tussen Oekraïne en Rusland zorgden al eerder voor problemen. In 2017 was Russische kandidate Yuliya Samoylova niet welkom in gaststad Kiev nadat ook zij, door de ogen van Oekraïne, illegaal afgereisd was naar twistgebied Krim. Twee jaar later was er een rel met MARUV, die net als Pash voorronde Vidbir had gewonnen. De problemen tussen MARUV en de omroep staken de kop op nadat de tv-bazen niet wilden weten van de goede banden tussen de zangeres en Rusland. Daarom moest ze een wurgcontract tekenen en al haar toekomstige optredens in Rusland schrappen. De commotie was ontstaan tijdens de nationale finale van Oekraïne, waarbij de jury de kandidaten vroeg om standpunten in te nemen over onder andere … de Krim.