Tel Aviv 2019
Backstage op het Songfestival: 'Powered by Belgium'
Ook dit jaar kreeg Songfestival.be de kans om een exclusieve blik achter de schermen te werpen van de grootste televisieshow ter wereld. Deze keer werden we gegidst door Rob Van Herk en Arno Vaeck van het Belgische elektriciteitsbedrijf The Powershop. Ook al haalde Eliot de finale niet, ons landje levert wel een cruciale bijdrage aan het festival: de stroom.
Rob en Arno zijn zeker niet aan hun proefstuk toe: ze zorgden eigenhandig voor de nodige power tijdens de festivals in Kopenhagen, Kiev en Lissabon. Daarbij kunnen ze rekenen op jarenlange ervaring met andere grote evenementen en concerten, waaronder de Europabeker, Rock Werchter en on the road met enkele grote namen als Madonna. Deze laatste kwamen we trouwens toevallig tegen backstage, maar helaas liet haar uitgebreide delegatie geen foto's toe.
12.000 ampère
Onze rondleiding begon net buiten de arena, waar zes stroomgroepen de elektriciteit leveren voor alle spots, ledschermen, camera's, microfoons,… binnenin. Een doordeweekse expozaal is uiteraard niet voorzien van de nodige infrastructuur om het licht te doen branden tijdens een Eurovisiesongfestival. Deze dieselgeneratoren leveren 12.000 ampère, heel wat als je weet dat een gemiddelde gezinswoning genoeg heeft met 40. Genoeg voor een heel dorp, met andere woorden.  Om pannes te vermijden is het van groot belang de driefasige stroom synchroon te houden. Hiervoor is de nodige apparatuur voorzien in een aparte technische container. Bovendien waken onze stroomspecialisten samen met twee andere collega's continu over de correcte werking voor en tijdens de shows.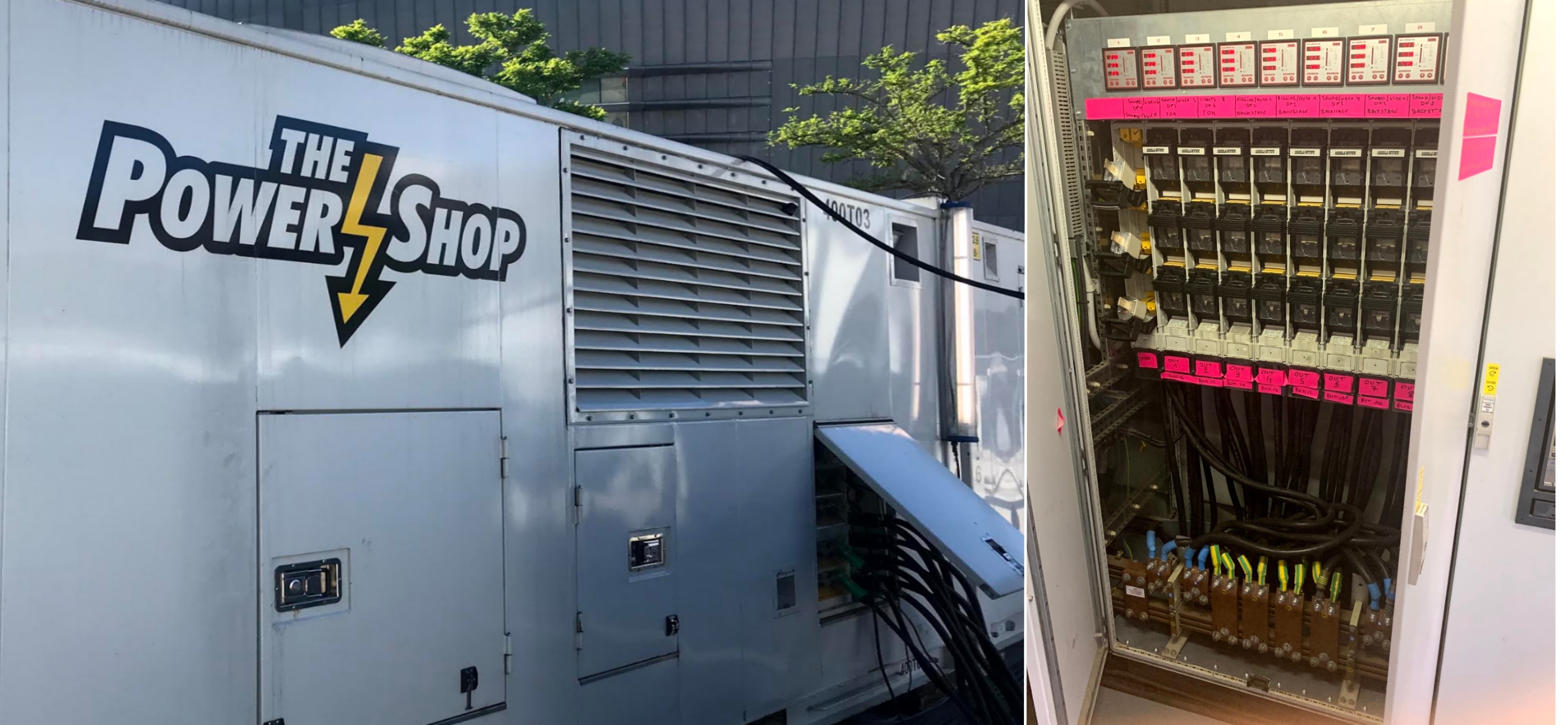 Tapijten van stroomkabels
De tweede uitdaging is om de opgewekte stroom veilig en netjes in de zaal te krijgen. Het gaat hier om maar liefst dertig kilometer kabel. Gezien velen het al lastig vinden de kabels achter de televisie netjes weggemoffeld te krijgen, was het ordelijke resultaat dat we hier te zien kregen uitermate indrukwekkend. Dergelijke 'tapijten' van stroomkabels vertrekken ook naar de green room, die zich dit jaar niet in de zaal bevindt, en naar het hart van de uitzending: de OB-trucks (Outside Broadcasting) die het festival naar jullie televisie brengen.
Eens binnen in de arena, werden we langs de tunnel of love (de technische doorgang, zie foto onder) achter het podium geleid en eindigen de ontelbare kabels in vijftig stroomkasten, waar onder andere het team van de belichting kan inpluggen.
We kregen enkele van deze stroomkasten te zien onder het podium, en na wat klauterwerk konden we ook het complexe systeem dat de gigantische ledmuur doet bewegen van zeer nabij inspecteren. Een uniek stuk, op maat gemaakt voor de shows.
Naar Dubai
De rondleiding eindigde op het podium, waar technici nog druk in de weer waren met de Nederlandse act (foto). Het blijft een unieke ervaring om de arena ook eens vanuit het perspectief van de artiesten te zien! Nadien vroegen we Arno en Rob nog of ze na het festival nog een week afbraak voor de boeg hadden. 'Na twee dagen zijn we weg', antwoordde Arno. De zaal zelf heeft gelukkig genoeg eigen stroom om de afbouwwerken te voorzien. Een welverdiende vakantie zit er voor hen echter nog niet in: in Dubai ligt er alweer een nieuw project te wachten.